Everything's Coming Up Benghazi, Obama Vetoes Defense Bill, American Soldier Killed in Iraq: P.M. Links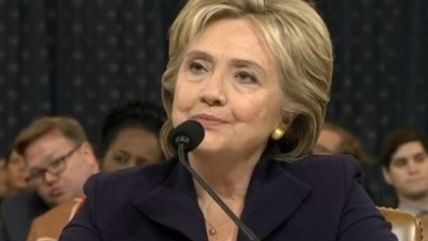 Hillary Clinton and Congressional Republicans faced off over Benghazi today. The media is, of course, focused on the partisanship of it all. You'd think there's an election coming or something. It turns out Ambassador Chris Stevens, killed in the attack on the consulate in Benghazi, did not have Clinton's personal email address, and therefore hundreds of emails from him never made it to her.

President Barack Obama has vetoed the defense authorization bill because it would sidestep limits on military spending and restrict the transfer of detainees from Guantanamo Bay.
An American soldier was killed in Iraq, the first since the official end of combat in 2011.
Corey Jones' family says they've been told Jones did not fire the gun he was holding (and legally owned) before he was shot and killed by a plainclothes police officer on the side of the road in Palm Beach Gardens, Florida. The cop shot six bullets, three of which hit Jones.
The controversial Cybersecurity Information Sharing Act (CISA), which many tech experts and companies fear does the exact opposite of what its name suggests, survived a cloture vote in the Senate today by a wide margin.
Sentencing reform to reduce some federal mandatory minimums passed successfully through the Senate's Judiciary Committee. Sen. Ted Cruz (R-Texas) attempted an amendment that would strike some efforts to make the changes retroactive, but it failed.
The Federal Communications Commission has voted today to reduce the costs of inmate phone calls.
New at Reason.com
Edward Snowden's Lawyer on the Government's War on Whistleblowers
Jesselyn Radack reveals what happens when whistleblowers go through those "proper channels" we're always hearing about.
By Amanda Winkler & Nick Gillespie
Follow us on Facebook and Twitter, and don't forget to sign up for Reason's daily updates for more content.