Biden Allegedly Deciding Candidacy Very Soon, Texas Cancels Contract with Planned Parenthood, CIA Director Maybe Hacked: P.M. Links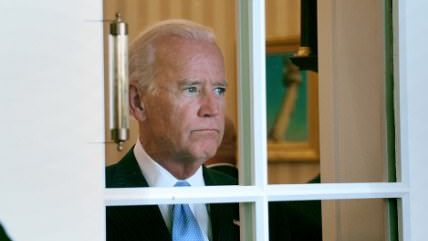 Joe Biden is expected to announce whether he's running for president within 48 hours, and more sources are saying the answer will be yes.

Texas officials have announced they're canceling the state's Medicaid contracts with Planned Parenthood over the video controversies.
The U.S. is investigating reports that non-work email accounts of CIA Director John Brennan and Department of Homeland Security Secretary Jeh Johnson were hacked.
The Director of Institute of War and Peace Reporting was found dead in a bathroom at an airport in Instanbul, Turkey. Turkish media seems to be reporting that it was suicide, but some are understandably suspicious. Her predecessor was killed in a car bomb attack in May in Baghdad.
The controversial Cybersecurity Information Sharing Act (CISA), which encourages businesses to share customer data with the government in exchange for some immunity from consumer lawsuits, may reach the Senate floor this week.
An actor in a gunfight re-enactment in Tombstone, Arizona, was injured when another actor apparently accidentally used live rounds. People are blaming lack of regulation, of course.
New at Reason.com:
Follow us on Facebook and Twitter, and don't forget to sign up for Reason's daily updates for more content.