Democratic Debate Looms, Martin O'Malley Does Not, No Charges for Cecil the Lion's Shooter: P.M. Links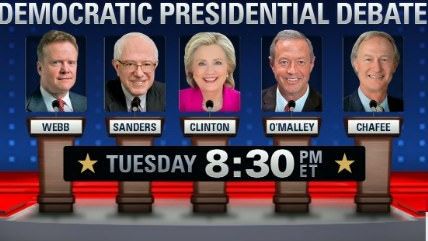 CNN

Anderson Cooper says he'll be asking "pointed" questions at tomorrow's CNN debate between Democrats running for president.

As Martin O'Malley prepares to try to make a dent that's more than a rounding error in the popularity of either Hillary Clinton or Bernie Sanders, a poll shows the guy can't even muster up support in Maryland, getting backing from just 4 percent of the voters.
Washington Post reporter Jason Rezaian has apparently been convicted of espionage in Iran. He and the Post have denied all allegations of any wrong-doing.
Zimbabwe will not be charging American Dentist Walter Palmer for hunting and killing Cecil the lion. His papers were in order and he apparently broke no laws.
A district attorney in Georgia is attempting to use anti-gang ordinances to go after a crew of confederate flag supporter who clashed with a group of black folks who were having a party.
Actor Randy Quaid and his wife, Evi, are being held on $500,000 bail in Vermont for a 2010 trespassing charge from a dispute in California.
New at Reason.com:
Follow us on Facebook and Twitter, and don't forget to sign up for Reason's daily updates for more content.