McCarthy Bows Out of Speaker Race, Russian Missiles Land in Iran, Okla. Executed Man with Wrong Drugs: P.M. Links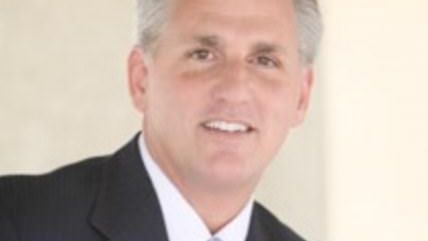 Rep. Kevin McCarthy

Republican Kevin McCarthy announced he wants to remain majority leader and not be speaker of the House, and now the world is going to end. Enjoy the moments we have left.

U.S. officials say Russian missiles aimed at targets in Syria have landed in Iran, instead. Keep in mind these two countries are not even neighbors, separated by Iraq.
One of the men credited with stopping a mass shooting on a train in France was stabbed in an incident in Sacramento. He is in the hospital with serious injuries. Police do not believe terrorism is involved.
When Oklahoma executed Charles Frederick Warner in January, they used the wrong drugs, according to an autopsy report. The same thing apparently almost happened in Richard Glossip's case, which is why his execution has been stayed.
Another college party, another blackface and stereotype controversy. UCLA is the location this time.
Some Chicago taxis went on strike today to protest Mayor Rahm Emanuel's budget proposal that would allow ride-sharing services to get fares at the airports. Uber has apparently responded by recruiting more drivers and offering discounts to new riders.
New at Reason
'Winter on Fire: Ukraine's Fight for Freedom' Comes to Netflix
Q&A with documentary director Evgeny Afineevsky
Nick Gillespie & Meredith Bragg