McDonald's Introduces All-Day Breakfast, 6,000 Inmates Going Free, Gun Statistics Debunked: P.M. Links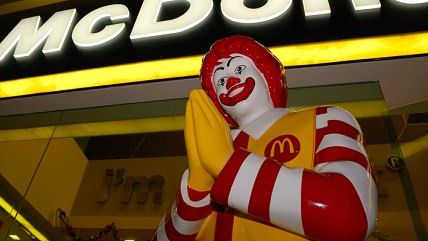 Dreamstime

No correlation between homicide and stricter gun laws, writes The Washington Post's Eugene Volokh.

It's Always Breakfast in McDonald's.
Youtube star Caleb Logan Bratayley died of natural causes.
"When trying to reduce sexual assault, labeling all forms of sexual misconduct, including unwanted touches and sloppy kisses, as rape is alarmist and unhelpful," writes social psychologist Carol Tavris. "We need to draw distinctions between behavior that is criminal, behavior that is stupid and behavior that results from the dance of ambiguity."
Wesleyan Black Lives Matter got an op-ed in The Argus. It begins, "White supremacy is the force that has worked since the genocide of indigenous bodies…"
U.S. will free 6,000 inmates thanks to sentencing reform.
You will never be free of Donald Trump.
New at Reason.com:
Follow us on Facebook and Twitter, and don't forget to sign up for Reason's daily updates for more content.