Philadelphia Shuts Down City for Pope, Blames Media for Poor Turnout
A large part of the downtown district was shut down but City Hall think it's the media's fault that that kept pilgrims, other tourists, and even locals away.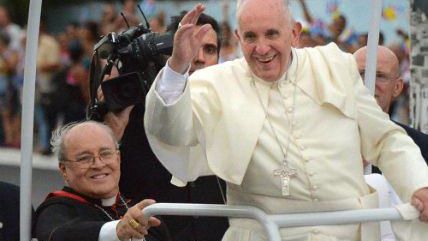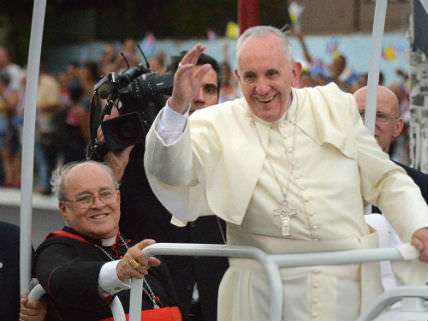 The pope left Philadelphia Sunday evening shortly after concluding Mass in front of the Philadelphia Museum of Art. It was the only open air Mass on the pope's entire U.S. trip, and was expected to draw more than 1 million pilgrims.
No officials have released any figures, and in a press conference today Mayor Michael Nutter (D) said the turnout wasn't so important because the papal visit wasn't a football game. "This is not a situation where you evaluate success based on the score," Nutter said. If more than a million pilgrims had shown up, it's likely Nutter would be singing a different tune and using it as evidence of a successful papal visit. Probably only 800,000 pilgrims showed up at the Ben Franklin Parkway (which basically goes around the Museum), and there were more than a thousand hotel rooms vacant over the weekend even though prices skyrocketed after the initial announcement the pope would be visiting Philadelphia.
So now it's the blame game. Philadelphia Magazine reports:
Monday morning, at what mercifully looks to have been the final Pope press conference, I asked Mayor Michael Nutter a question. I'm paraphrasing, but it went a little like this:

For those who made it, this weekend was amazing. But a lot of people stayed away because they got the message the city was closing down for this event. Is there anything you'd do differently? Is there anything you wish the media had done differently? That Philadelphians generally had done differently?

Nutter allowed that there were surely things the city could have done better. Then he turned to the media's role.

"In some instances, you all scared the shit out of people," Nutter said.

"So did you," another reporter shot back immediately.

It's a disturbingly common attitude among elected officials, and government officials in general, that it's not their actions, decisions, or policy choices that elicit a reaction from the public but the media's coverage of those actions and decisions. They're mistaking the map for the thing. The problem is particularly acute with police unions, which seem to be constantly complaining that the media covers police brutality, even as the media has a long way to go to giving police misconduct the attention it deserves.
It was Nutter who made the decision to shut down a large swath of Philadelphia's downtown area, Center City, the Schuylkill Expressway (I-76 east of the Turnpike tolls), and I-676, which cuts through downtown Philly. And those security decisions were made by federal and state agencies, they still needed the mayor's acquiescence. The papal Mass was held north of I-676 but the area closed off to vehicular traffic started a couple of miles south and east of 676. There's not a lot of (honest) ways to cover that without giving off the appearance it was going to be a bitch to try to see the pope.
As I wrote yesterday, my wife and I, who live in Philly, were turned off to trying to see the Mass Sunday by a security checkpoint line that looked at least two hours long. We had a couple of pilgrims staying with us and they left early in the morning and reported a five hour wait at a checkpoint. SEPTA, the regional public transit authority, shut down much of its rail service, opening up a lottery to win the right to purchase passes for the train during the papal visit. Those passes were good only from the specific station for which you applied and only to center city. Ridership may have been up to half of what was expected. The establishment of a lottery just to access public transit gives off the unmistakable impression of scarcity. Residents also reported sporadic and unannounced bus delays and cancellations throughout the city. Government officials get caught up in the security theater they put up, hypnotizing themselves with mantras like "better safe than sorry" and "safety first." Where there's a free press, it's going to report on security theater the way it looks, not the way government imagines it looked. That's not something any self-respecting politician or other government official in a nominally democratic society should bemoan.