Donald Trump Slumping, Putin to Meet Obama at UN, Singapore Schools Closed Due to Haze: A.M. Links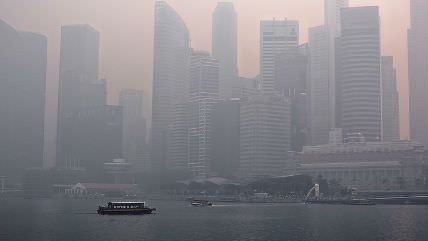 DLifeJourney/flickr

Democratic frontrunner Hillary Clinton now trails Bernie Sanders in New Hampshire in polls that do and do not include Joe Biden, and Republican frontrunner Donald Trump is starting to look like he might be dropping in the polls. Meanwhile, presidential candidates for the Libertarian and Green parties are planning to sue the Commission on Presidential Debates on anti-trust grounds. They're seeking to be allowed to participate in the debates.

Republican leaders in Congress say they're working to prevent a government shutdown.
Pope Francis is in New York City for the third leg of his trip to the United States.
Vladimir Putin will appear at the United Nations General Assembly for the first time in 10 years. He asked to meet with President Obama on the sidelines to discuss Syria and Ukraine.
Schools in Singapore were closed today due to haze.
Rapper Puff Daddy says there's no such thing as a "child prostitute."
The New York Mets will no longer feature players from the opposing team on their Kiss Cam as a gag, after some fans complained the joke was homophobic.
New at Reason.com: