Fixing Liberal Bias Will Improve Academic Research
Trying to turn back the herd of independent minds.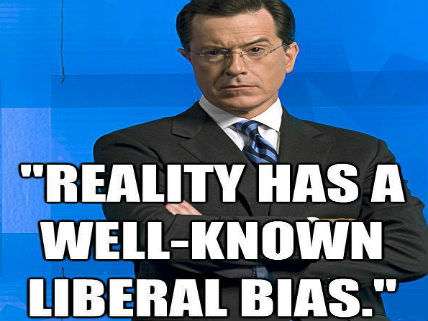 A group of social psychologists have just published a new paper, "Political diversity will improve social psychological science," in the journal Behavioral and Brain Sciences arguing that psychological research is badly skewed by a pervasive bias against researchers who do not endorse the field's left-leaning consensus. The researchers have launched a new blog, Heterodox Academy, that has the mission to "increase viewpoint diversity in the academy, with a special focus on the social sciences." They note:
Before the 1990s, academic psychology only LEANED left. Liberals and Democrats outnumbered Conservatives and Republican by 4 to 1 or less. But as the "greatest generation" retired in the 1990s and was replaced by baby boomers, the ratio skyrocketed to something more like 12 to 1. In just 20 years. Few psychologists realize just how quickly or completely the field has become a political monoculture.
Over at the new blog, they provide a short analysis of their new paper that argues that leftwing academic groupthink poses risks to research in the following ways:
1: Liberal values and assumptions can become embedded into theory and method

2: Researchers may concentrate on topics that validate the liberal progress narrative and avoid topics that contest that narrative

3: Negative attitudes regarding conservatives can produce a psychological science that mischaracterizes their traits and attributes
These researchers also list and address the various explanations for why so few non-liberals become social scientists including (1) that conservatives simply less intelligent than liberals, and less able to obtain PhDs and faculty positions; (2) many may view education as "enlightening" and believe that an enlightened view comports with liberal politics; (3) self-selection clearly plays a role. But it would be ironic if an epistemic community resonated to empirical arguments that appear to exonerate the community of prejudice—when that same community roundly rejects those same arguments when invoked by other institutions to explain the under-representation of women or ethnic minorities (e.g., in STEM disciplines or other elite professions); (4) hostile climate—self-selection might be amplified by an accurate perception among conservative students that they are not welcome in the social psychology community. Being characterized as less intelligent, less cognitively complex, more rigid, dogmatic, and inflexible might be a tad offputting; (5) active discrimination—a 2012 study found that most social psychologists who responded to a survey were willing to explicitly state that they would discriminate against conservatives; 82% admitted that they would be at least a little bit prejudiced against a conservative candidate.
They offer some suggestions for how to increase political diversity in the social sciences:
1. Acknowledge the problem and raise awareness about it.
2. Seek feedback from non-liberals.
3. Expand organizational diversity statements to include politics.
4. Add a statement to your own academic website acknowledging that you encourage collaboration among people of diverse political views.
5. Eliminate pejorative terms referring to non-liberals; criticize others' scholarship when they use those terms. As an editor or reviewer, do not permit such terms to
pass without comment.
6. Avoid "leakage" of political hostilities or presumptions (including jokes) when functioning in any teaching or research capacity, but especially around students and junior colleagues.
7. Encourage young scholars who are not liberals to pursue careers in social psychology.
8. Be alert to double standards. Use turnabout tests to reveal bias.
These researchers have identified a real problem; let us hope that their efforts to boost intellectual diversity on university faculties will succeed.
For more background, see my articles, "Pathologizing Conservatism," and "The Science of Libertarian Morality."