Movie Review: The Visit
The wonderfully spooky return of M. Night Shyamalan.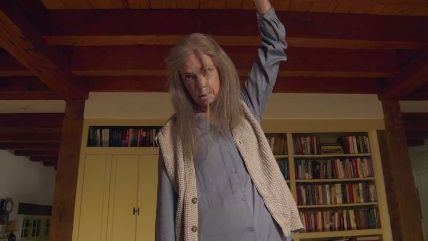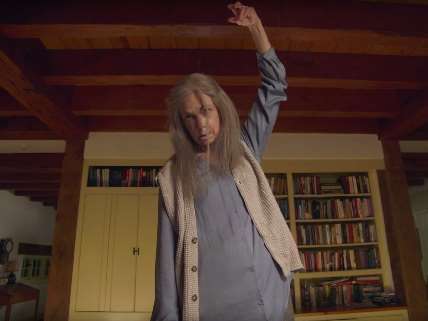 It's been a long time since word of a new M. Night Shyamalan movie stirred much more than a shrug. Only dimly remembered by now are the Oscar-nominated splash he made with The Sixth Sense in 1999 and the worthiness of its successors, the eventual cult item Unbreakable and the box-office hit Signs. Shyamalan began bombing with preposterous films like Lady in the Water and The Happening. These were followed by attempted blockbusters like the bloated The Last Airbender and the dire After Earth, which bombed even bigger. Seldom has what at first looked like a major career taken such a baffling nosedive.
Now Shyamalan is back again, but this time the news is heartening. His eleventh picture, The Visit, is a nifty, screw-tightening horror movie, creepy and fleet (90 minutes) and filled with crisply delivered shocks. It's a clever refurbishing of the played-out "found footage" genre, and also a pocket guide to horror-flick history, reaching back to the Brothers Grimm and moving up through Halloween and The Blair Witch Project (and of course the Paranormal Activity films). As is not always the case with modern scare-fests, there's nothing dank or slash-y about this one. It's a lot of fun.
The director has always had a special rapport with child actors, and he draws precocious performances from the two featured here: Olivia DeJonge, playing 15-year-old Becca, and fellow Australian Ed Oxenbould, playing her younger brother, Tyler. When their single mom (lovably scattered Kathryn Hahn) decides to go on a week-long cruise with her current boyfriend, she ships the kids off for a first-time visit to her parents, who live in a big creaky house on a remote farm in rural Pennsylvania (Shyamalan's home turf and customary setting of choice). These grandparents—Nana (Deanna Dunagan) and Pop Pop (Peter McRobbie)—are sweet and welcoming at first. But things get weird pretty quickly.        
Fortunately, Becca is prepared for all the crazy that follows. An aspiring filmmaker, she has come equipped with a video camera, and has given her brother one, too. Shyamalan is especially skillful in handling this found-footage cliché: we never question how this or that shot could have been made because the director always makes it clear. And while there's some requisite shaky-cam stylization, it's also clear that a real cinematographer (Maryse Alberti, who filmed The Wrestler and West of Memphis) was in charge.
Only a churl would give away the good stuff in this movie. Let's just say there's an ominous shed out back, a classically dark basement ("I'm gonna go down there"), and a disturbing encounter under a porch. There's also a gross-out scene that sets a new standard for PG-13 ick. And of course, this being a Shyamalan movie, there's a sudden plot twist, too—and a pretty good one.
Shyamalan's last two films each cost way north of $100-million, and they were worthless. This one is said to have cost $5-million, and it's a real jewel. The man's still got it. And for the first time in years, we want to see more of it.