Tom Brady Is Back in the Game, Trump Signs Loyalty Pledge, Dylann Roof Faces Death Penalty: P.M. Links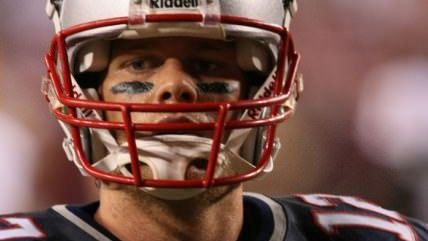 (Keith Allison / photo on flickr)
Credit: Keith Allison / photo on flickr

A judge has vacated the four-game suspension lodged against Patriots quarterback Tom Brady in that whole "deflategate" scandal with the underinflated footballs. The judge ruled that Brady was essentially not provided appropriate due process.

The father of the dead Syrian toddler whose body was photographed washed ashore in Turkey has spoken out in despair, saying, "Everything I was dreaming of is gone." The father was the only survivor of the family's attempt to flee to Canada.
Kim Davis, the Kentucky clerk who has refused to hand out marriage licenses despite court orders to do so has been found in contempt and sent to jail.
Donald Trump has signed the Republican National Committee's "loyalty pledge" not to run as a third-party candidate if he doesn't get the nomination.
South Carolina will seek the death penalty against Dylann Roof for killing nine people at a black church in Charleston.
A new study shows that, at least in Los Angeles County, there's very little correlation between the eating habits of individuals and their proximity to fast food restaurants or grocery stores, throwing the concept of "food deserts" into further question.
Three corrections officers in Santa Clarita, California, have been arrested and charged with beating an inmate to death last week in a county jail.
New at Reason
The Former Prosecutor Who Consistently Gets Criminal Justice Reform Wrong: Former prosecutor Bill Otis has been mistaken over and over again when advising legislators against reducing drug sentences. By Julie Stewart
California Created Single-Party General Elections And Now They're More Competitive Than Ever: Talking "Top Two" primaries with IndependentVoice.org's Jason Olson. By Zach Weissmueller
Follow us on Facebook and Twitter, and don't forget to sign up for Reason's daily updates for more content.