In Colombia's Civil War, Peasants Try to Build an Island of Peace
And of voluntary self-government too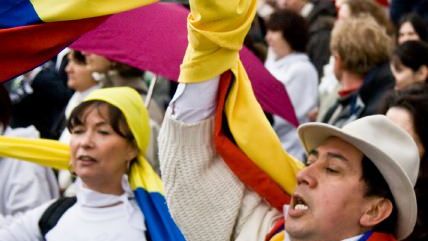 In 1997, battered by their country's civil war, around 800 peasants from northwestern Colombia "decided to protest in front of the government building and demand protection." And so they
International Center on Nonviolent Conflict

marched from San José to the city of Apartadó and established a temporary refuge in the city's coliseum. After some negotiations with a government-sponsored commission, they went back home and, upon their return, some leaders were assassinated. In view of this response, a group of about 1,500 San José villagers opted instead for self-organization in order to find a collective, campesino-based solution to the problem. After discussing possible courses of action, the villagers sought the support of external actors, stating their determination not to leave the village while, at the same time, opting out of war.

Inspired by a proposal by Monsignor Isaías Duarte Cancino, the then-Bishop of the Dioceses of Apartadó, San José villagers decided to formally declare themselves neutral to the conflict and establish a Peace Community. In doing so, they pledged not to participate in any possible way in the war and disavow any form of cooperation with all armed groups, including the national army and the police. In addition, with flags, symbols, billboards and fences, they explicitly delineated and designated physical areas where Community members stayed, while armed groups, without distinction, could not enter or pass through.
That's Juan Masullo Jiménez writing in The Power of Staying Put, a new monograph from the International Center on Nonviolent Conflict. The reaction to the peasants' project—dubbed the Peace Community of San José de Apartadó—was violent and sometimes lethal: 210 of the community's members would be assassinated in the ensuing years. But the villagers dug in, grew stronger, recovered a lot of the land they'd lost to paramilitary groups, and generally succeeded in creating a neutral and autonomous island in a civil war. Along the way, Masullo writes, they built a voluntary, self-managed community capable of "carrying out several state-like activities and building institutions…from which the state was left out." These functions include education, conflict resolution, building trails, keeping common areas clean, and running the local cacao operation, among other activities.
It's an interesting study, well worth a look. You can read a pdf of it here.
Bonus link: nonviolent resistance to the mob.