Decades After Straight Outta Compton, Gov't Still Has Rap In Its Crosshairs
Aspiring rap artists have tried to emulate the success of N.W.A. but end up having their lyrics used against them in court.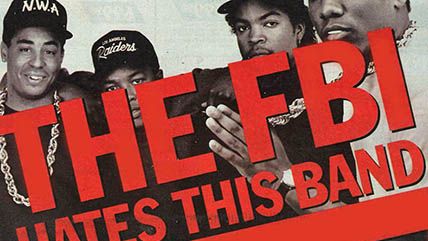 If you got a letter from the feds telling you they didn't like a song you wrote, what would you do?
That's what happened to gantsa rap group N.W.A. in 1989 when the Federal Bureau of Investigation (FBI) sent a letter to the the group's record label saying the lyrics to "Fuck tha Police," encouraged "violence against and disrespect for the law enforcement officer." Instead of pulling the song from albums and refusing to play it at concerts, N.W.A. went public with the letter and their status as renegade musicans went through the roof.
The incident is dramatized in the summer blockbuster Straight Outta Compton. The film chronicles the emergence of N.W.A. in the late 1980s and early 1990s and has garnered critical praise. But viewers may be surprised to find out that the government still targets aspiring rap artists.
Brandon Duncan's rap name is Tiny Doo and the character he adopted to write and perform songs on his album, No Safety, got him in a lot of trouble with the San Diego District Attorney's Office. The DA's office alleged Duncan conspried to commit a series of gang related shootings around San Diego, but said he was never present at the actual crime. Instead, they said he benefited from the crimes through album sales of No Safety.
"We're not just talking about a CD of anything, of love songs," said San Diego County Deputy District Attorney Anthony Campagna in court. "We're talking about a CD [cover] … There is a revolver with bullets." 
"How can you commit crimes you don't even know about?" Duncan told Reason TV in 2015. "It's not real life, it's just entertainment."
For more of Reason TV's interview with Tiny Doo, watch, "Jailed for Rap Lyrics: Is Rapper Tiny Doo a Murderer or a Musician?"