Black Monday for Stock Markets, Americans Receive France's Highest Honor, Jon Stewart Hosts SummerSlam: A.M. Links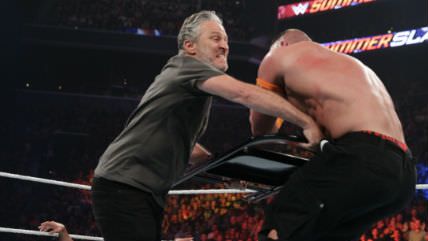 WWE

Stock markets around the world were down after the markets in China plunged. The Dow Jones is preparing for a sell-off today after a sharp drop Friday.

Three Americans who thwarted a massacre on a train in France received that country's highest award, the Legion of Honor.
Sources close to Vice President Joe Biden say he's leaning toward running for president, if he can put together a competitive campaign. As Democrats are beginning to turn on Hillary Clinton, some are trying to persuade Sen. Elizabeth Warren to run.
Donald Trump slammed fellow Republican presidential candidate Gov. Scott Walker, saying Wisconsin was "really in trouble" in part because of its governor.
The foreign minister of Iran says it's too early to discuss re-opening the U.S. embassy in Tehran.
Jon Stewart hosted the WWE SummerSlam, saying he was glad to leave political commentary behind and return to reality.
New at Reason.com: