A.M. Links: Clinton Email Scandal Widens, Biden Polls Well in Swing States, North and South Korea Exchange Fire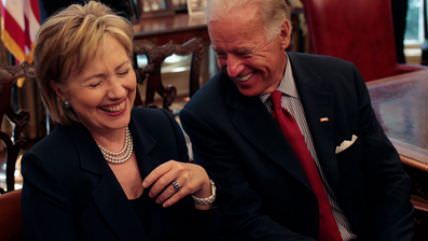 Credit: White House / Flickr.com

The Justice Department's inquiry into Hillary Clinton's private email server is likely to widen, according to a number of former government officials. "I think that the FBI will be moving with all deliberate speed to determine whether there were serious breaches of national security here," Ron Hosko, former director of the FBI's criminal investigation division, told NPR.
According to a new poll, Hillary Clinton is the only candidate with worse honesty ratings than Donald Trump in the key swing states of Florida, Ohio, and Pennsylvania. Joe Biden, meanwhile, polled as well or better than Clinton in those states when matched against top GOP rivals.
Protests erupted overnight in St. Louis after two police officers fatally shot a black teen that they say pointed a gun at them.
"South Korea said it fired tens of artillery rounds toward North Korea on Thursday after the North launched a shell toward a South Korean loudspeaker that had been blaring anti-Pyongyang broadcasts, as tension escalated on the peninsula."
A candidate named Deez Nuts is officially running for president.
New at Reason
Follow us on Facebook and Twitter, and don't forget to sign up for Reason's daily updates for more content.