FDA Worried About Kim Kardashian Morning Sickness Post on Instagram
Slaps pharmaceutical company with warning letter.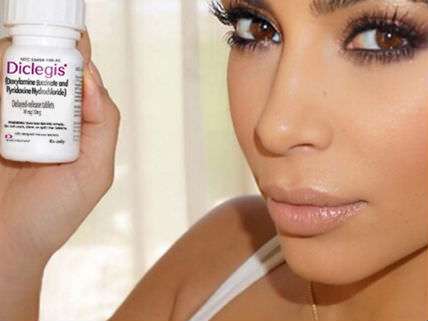 Kim Kardashian is one of a number of celebrity, semi-celebrity, and Internet famous social media users leveraging their follower base on social media to get endorsement deals. The First Amendment would suggest nothing for the government to interfere with in these arrangements, but of course that's not the way it works.
Regulations cover a wide range of commercial advertisement, and federal regulators are working hard to extend their remit online. The Food and Drug Administration (FDA) has been particularly keen on this. Four years ago, they extracted a $500 million settlement from Google over ads for Canadian drugs shown in the U.S., and the FDA spent the last year plus working on guidance for advertising pharmaceuticals online, including social media.
On Friday, the FDA sent a warning letter (PDF) to drug company Duchesnay USA over a post Kim Kardashian made on Instagram about a morning sickness pill she was taking while pregnant. Kardashian said the pill made her feel better and that studies showed it doesn't put babies at risk. The FDA called the post misleading because it didn't include any of the risks—risks easily searchable online by anyone who came across Kardashian's post, which is online.
The drug company responded, saying it "takes its regulatory responsibilities very seriously, and acknowledges that its communications, including in social media as in this particular instance, need to be in accordance with applicable rules and regulations," but insisted Kardashian had found the drug through her doctor before the company offered an endorsement deal. Kardashian has deleted the post and the FDA wants the company to offer a correction that would reach the same Instagram users.
Meanwhile, on the same day, a federal judge in Manhattan ruled that the FDA could not prohibit companies from making truthful claims about unapproved drugs in their advertisements.
Related: The FDA vs. Commercial Speech