$15 Minimum Wage Proposed for D.C., Dems Want Huge Expansion of LGBT Discrimination Protections, White House Nearly Done with Plan to Close Gitmo: P.M. Links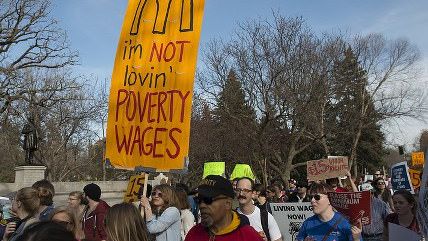 (Fibonacci Blue / photo on flickr)
Credit: Fibonacci Blue / photo on flickr

A ballot initiative has been approved for circulation in Washington, D.C., that would raise the minimum wage there to $15 per hour by 2020.

Vice President Joe Biden, meanwhile, is pushing for a $12 federal minimum wage.
Democratic politicians and gay and lesbian community leaders are pushing the newly announced Equality Act, which would amend the Civil Rights Act of 1964 to extend the protections to gay, bisexual, and transgender people.
Ikea is recalling millions of dressers because two children died last year when said dressers tipped over and crushed them.
The White House is reportedly in the final stages of drafting a plan to close Guantanamo Bay's prison.
The European Union has filed anti-trust complaints against Disney, Fox, and other movie studios over restrictions that prohibit their movies from airing on some pay TV channels overseas.
Get to know Kepler-452b, a planet 1,400 light years away from our solar system that may be able to support water and life.
New at Reason
'Sexist' Scientist Tim Hunt: The Real Story. The "Tim Hunt, misogynist scientist" narrative has been falling apart piece by piece over the past month. By Cathy Young
You Have a Right to Buy and Sell Sex Will the courts protect it by legalizing prostitution? By Zach Weissmueller
Follow Reason on Twitter, and like us on Facebook. You can also get the top stories mailed to you—sign up here. Have a news tip? Send it to us!