A.M. Links: U.N. Approves Iran Nuclear Deal, New Poll Shows Support for SCOTUS Term Limits, Federal Judge Blasts State Department Over Hillary Clinton Records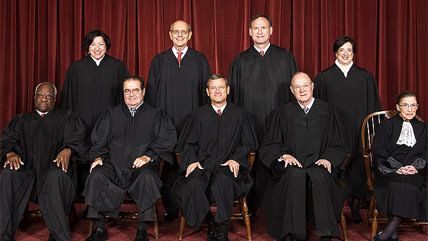 Credit: Library of Congress

The U.N. Security Council has approved the Obama administration's nuclear deal with Iran.
North Korea says it has no interest in reaching an Iran-style nuclear deal with the U.S.
According to a new poll, a majority of Americans say they support 10-year term limits for Supreme Court justices.
"FBI agents have found evidence that Chattanooga shooter Mohammod Abulazeez was following a radical American member of al Qaeda online in 2013, as well as pages of writing that showed the young man was suicidal and looking for a way to absolve what he considered were his sins, according to a representative of Abdulazeez's family."
U.S. District Court Judge Richard Leon had sharp words for the State Department over its handling of Freedom of Information Act requests pertaining to former Secretary of State Hillary Clinton. "I want to find out what's been going on over there. I should say, what's not been going on over there," the judge said. "The State Department, for reasons known only to itself … has been, to say the least, recalcitrant in responding."
Fun Fact: In 1990 the National Rifle Association backed socialist Bernie Sanders over the incumbent Republican in the race for Vermont's seat in the House of Representatives.
New at Reason
Brickbat: School Days
by Charles Oliver
It's Time We Learned from Sin Taxes' Impressive History of Failure
Advocates of new sin taxes would prefer to repeat same mistakes.
By J.D. Tuccille
San Francisco's Private Police Force
The City by the Bay has a second, private police force…with a better record than the government cops.
By Edward Stringham
Privatizing Marriage Is a Terrible Idea
It won't end the culture war but will lead to even more government interference in families.
By Shikha Dalmia
Follow us on Facebook and Twitter, and don't forget to sign up for Reason's daily updates for more content.