Ronald Bailey Lunch Book Event at Cato Institute on July 23: Register Now!
Ronald Bailey Talks The End of Doom at Cato July 23, 2015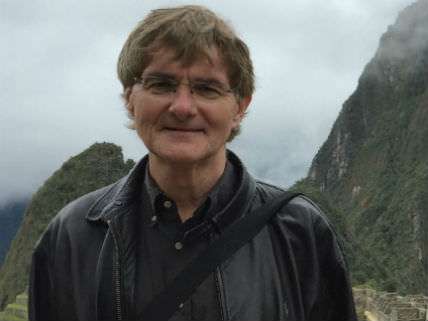 On July 23, the folks at the Cato Institute in Washington, DC are hosting a luncheon talk by me about my new book, The End of Doom: Environmental Renewal in the Twenty-first Century (St. Martin's Press, July 21). Come listen to what I have to say about the scientific and economic data that strongly point toward an amazing and abundant future, and for your pains Cato will serve you a free lunch. Of course, books will be available for purchase. The talk begins in the Hayek auditorium at 12:00 noon.
From the Cato invitation:
Featuring the author Ronald Bailey, Science Correspondent, Reason magazine; with comments by Indur M. Goklany, Author, The Improving State of the World: Why We're Living Longer, Healthier, More Comfortable Lives on a Cleaner Planet (Cato Institute, 2007); moderated by Marian L. Tupy Senior Policy Analyst, Center for Global Liberty and Prosperity, Cato Institute.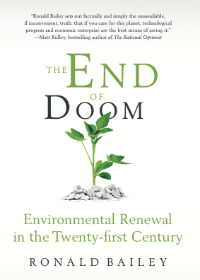 Throughout the past five decades there have been many forecasts of impending environmental doom. These projections have universally been proven wrong. Those who have bet on human resourcefulness, however" have almost always been correct. In his book, Bailey provides a detailed examination of the theories, studies, and assumptions currently spurring forecasts of calamity and shaping environmental policy. Breaking down the numbers, he finds that — thanks to human ingenuity and economic progress — many current ecological trends are in fact positive. Cancer rates are falling in America, world population will soon be declining, more and more land is being restored to nature, increasing wealth is leading to decreasing pollution, and the cost of clean energy will soon fall below that of fossil fuels. As Bailey demonstrates, the way to cement these trends is not to retreat into a maze of paralyzing regulation but to craft our own future through continuing economic and technological development.
You need to register for the talk and luncheon, so head on over to the Cato event site here, and click the button at the bottom of the page. I look forward to seeing you all.