Man Jams Out to 'Star Spangled Banner' on 4th of July, Gets Arrested for Breaching the Peace
"I'm getting arrested for this after I was told I could do it?" asks befuddled musician.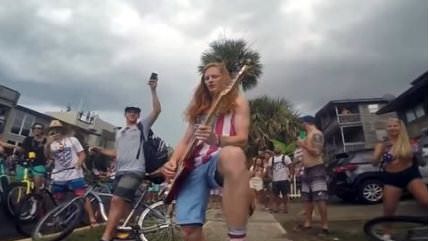 God bless America—but not too loudly, please. In Jacksonville, Florida, local musician Lane Pittman was charged with breaching the peace after a raucous rendition of "The Star Spangled Banner" on Independence Day.
The incident happened after Pittman began playing on a street near Neptune Beach, which attracted a crowd of nearly 200 onlookers, according to Orlando Weekly. Pittman said police asked him to move from the street to the sidewalk, which he did. Police then waited until Pittman finished his performance and cited him anyway.
Pittman told WJXT of the arrest:
[The officer] goes, 'Spread your legs. Put your hands behind your back,' and that was when I was like, 'Oh my gosh. Is he serious? I'm getting arrested for this after I was told I could do it?'
"Out of respect for the national anthem, they let [Pittman finish]," countered Neptune Beach Police Chief David Sembach. "He was told he was going to have to stop playing. He went to the sidewalk and continued playing, and it was only after that that the crowd was getting hostile, so the only way to stop it, since he wasn't going to stop playing, was to take him out of the location."
According to WJXT, Pittman is well-known locally, where he plays in his church's band, coaches high-school lacrosse, and apparently has ambitions to be the next man behind the town's Jacksonville Jaguars mascot, Jaxson de Ville. Chief Sembach suggested Pittman has deliberately provoked arrest to drum up publicity for his mascot campaign. But a witness backs Pittman's version of events, corroborating that an officer had first said it was fine to continue playing on the sidewalk.
Pittman claims police said he would have been charged with inciting a riot except they didn't have the resources at the moment to take him downtown for booking. He also alleges that the officers never read him his rights or told him for what he was being arrested.