Sex Workers of the World, Unite!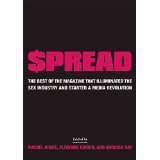 Before social media made it easy for sex workers to tell their own side of the story, $pread magazine served as the outlet for writing "by and about" sex workers. Founded in 2004, the New York City-based quarterly covered cultural, political, personal, and economic aspects of sex work, from porn to prostitution to any commercial exchange for erotic labor. The $pread anthology (Feminist Press, 2015) showcases the breadth and quality of this indie mag.
Between short personal essays ("Diary of a Peep Show Girl") and interviews with folks like "the D.C. madam" lay accounts of sex workers from Mexico to Mumbai. The topics covered remain relevant today: federal laws making online finance hard for adult businesses; prostitution offenders added to sex-predator lists; anti-immigration and anti-prostitution efforts disguised as "anti-trafficking." Readers will also learn about strip-club dressing room chatter and the unintended consequences of America's prudish, prohibitionist sex-work policies.
This article originally appeared in print under the headline "Sex Workers of the World, Unite!".