Google's Robot Car Cuts Off Delphi's Robot Car: No Road Rage Ensues
What is the self-driving equivalent of flipping the bird?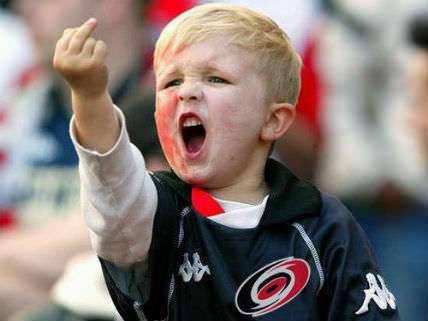 Self-driving vehicles are coming sooner to America's highways than many expect. In what appears to be the first of its kind encounter, a tricked-out self-driving Google Lexus rudely cut off a similarly accoutred Delphi Audi in the mean streets of Palo Alto, California. Reuters reports:
The incident occurred Tuesday on San Antonio Road in Palo Alto, said John Absmeier, director of Delphi's Silicon Valley lab and global business director for the company's automated driving program, who was a passenger in one of the cars.

No collision took place.

Google declined to comment.

Absmeier was a passenger in a prototype Audi Q5 crossover vehicle equipped with lasers, radar, cameras and special computer software designed to enable the vehicle to drive itself, with a person at the wheel as a backup.

As the Delphi vehicle prepared to change lanes, a Google self-driving prototype - a Lexus RX400h crossover fitted with similar hardware and software - cut off the Audi, forcing it to abort the lane change, Absmeier said.

The Delphi car "took appropriate action," according to Absmeier.
Appropriate action? What is the self-driving equivalent of flipping the bird?
For more on the how morality will need to be built into self-driving cars, see my article, "The Moral Case for Self-Driving Cars."