French Police Ordered to Crack Down on Uber After Anti-Uber Strike Turns Violent
Violence precipitates change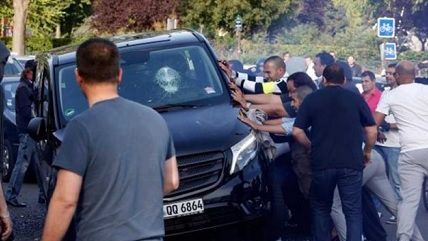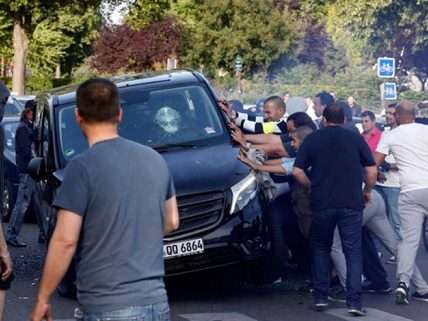 French taxi drivers went on strike yesterday over competition from UberPOP, a ride sharing service made available in Friday after a presidential decree required non-ride sharing Uber drivers to wait 15 minutes before picking up a hail. The French government also ruled UberPOP illegal, but it continues to operate while there are still legal appeals available.
Yesterday's protest made big news when it turned violent and ensnared Courtney Love, who tweeted the incident, saying her car had been ambushed and her Uber driver attacked. Like the shutting down of highways and other transportation links, violence too is a common tactic of the striking French taxi driver. For several years taxi drivers have targeted and attacked Uber drivers and their passengers. Earlier this week France 24 reported about a French man who was attacked by a cabbie after pointing out he couldn't tell if the taxi was on-duty and noting that that was why Uber outcompeting the taxi drivers.
The French government will have none of the taxi drivers' anti-Uber violence, so it has banned UberPOP and ordered police to crack down on drivers operating with the service. CNN reports:
The French government has ordered police to crack down on Uber in Paris after violence erupted at demonstrations by taxi drivers against the online ride service.

Interior Minister Bernard Cazeneuve said Thursday that he asked the Paris police authority to issue a decree forbidding activity by UberPOP drivers. Similar decrees have already been issued in other major French cities.

Cazeneuve said vehicles using UberPOP will now "be systematically seized" by police when caught operating.
Seventy vehicles were destroyed and ten people were arrested after yesterday's violent protest, but no word on the breakdown of taxi drivers vs. Uber drivers and others who were arrested. At least one Uber driver was arrested for allegedly running over a taxi driver blocking his car, although most of the violence yesterday was attributed to the cabbies.