ISIS Bans Cigarettes, Cracks Down on Black Markets It Doesn't Control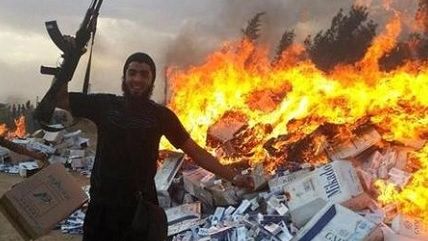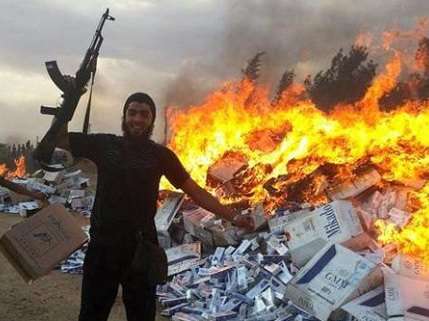 The Associated Press has a report this weekend on the risky business of smuggling cigarettes into territories controlled by the Islamic State in Iraq and Syria (ISIS), a radical Islamist group that enforces a strict fundamentalist interpretation of sharia law in its self-styled "caliphate." ISIS's war on drugs includes alcohol and tobacco. Smoking a cigarette can carry a penalty of having your finger broken—selling cigarettes can be punishable by death. Except where ISIS has overturned its own bans in an effort to shore up its popularity. The AP talked to 30-year-old cigarette smuggler Falah Jamil, who lives in the previously ISIS-controlled village of Ekil Mosul, and who had several brushes with the law, including once being found with more than 100 cartons of cigarettes at a checkpoint outside of Mosul. Via Haaretz:
The fighters took him to the checkpoint commander, who warned Jamil he'd go to prison and his car would be confiscated. Jamil promised never to do it again. "Just let me go this time for the sake of my children," he said. "If I don't have money, what can I do? Should I steal? If I steal, you'll cut off my hand."

In an interview with The Associated Press in May, Jamil sat in his modest living room, describing how he survived nearly seven months of IS rule before the extremist group was run from town by Kurdish fighters.

The checkpoint commander ordered his subordinates out of the room, Jamil recalled. Once they were alone, he made his offer: "I will let you go if you give me cigarettes." Jamil asked him what brand. "Anything, just give me two cartons," the commander replied.
Elsewhere in the lands ISIS holds the group controls the cigarette black market. More:
Iraqi civilians living under IS rule in Mosul, the group's biggest stronghold, told the AP that the militants actually control the cigarette black market, banning smoking in public while privately controlling the sale of cigarettes at an inflated price. They spoke anonymously for fear of retribution.

Saad Eidou, 25, a displaced Iraqi from the town of Sinjar near the Syrian border, said that like everyone else, militants smoke in private. The cigarettes come in through Syria, where movement in and out of Turkey and non-IS areas is easier.

"They brought in cigarettes from Syria, where you probably won't pay more than 250 dinars ($0.20) for a pack, but they were selling it here for 1,000 dinars ($0.80)," said Bilal Abdullah, another resident of Eski Mosul. With IS gone, he took deep draws from a cigarette in public as he spoke.
Governments around the world make good money off cigarettes, generally by taxing them at a high rate an cracking down on the black market those taxes create rather than outright operating the black market. In its attempts to emulate a government, ISIS is still a JV squad with a lot to learn.