A.M. Links: New York Still Searching for Prison Escapees, Florida Enacts Abortion Waiting Period Law, Christopher Lee Has Died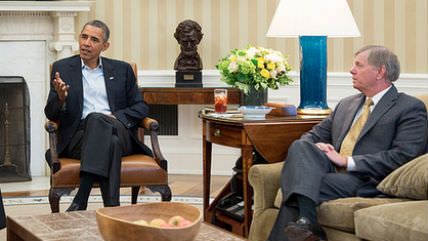 Credit: White House / Flickr.com

Authorities are still searching for the two convicts that escaped from a maximum security prison in New York. The manhunt has now expanded to Vermont.
If he's elected president in 2016, bachelor Lindsey Graham says "we'll have a rotating first lady."
Florida Gov. Rick Scott has signed a new law imposing a 24-hour waiting period on women seeking abortions.
Gordon Fox, former speaker of the Rhode Island House of Representatives, will be sentenced today on federal bribery and corruption charges.
Christopher Lee, the star of numerous films including The Lord of the Rings trilogy and Horror of Dracula, has died at age 93.
Follow Reason on Twitter, and like us on Facebook. You can also get the top stories mailed to you—sign up here.