A.M. Links: Jeb Bush Heads to Germany, Escaped New York Prisoners Still on the Loose, Vincent Bugliosi Has Died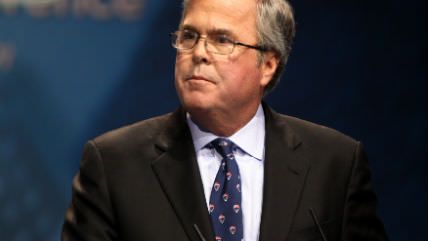 Credit: Gage Skidmore / Flickr.com

A second video has emerged showing McKinney, Texas, police officer Eric Casebolt unholstering his gun and throwing a 15-year-old girl to the ground outside a pool party.
Community leaders in Cleveland say they will bypass prosecutors and petition a judge directly to bring murder charges against the police officers involved in last year's fatal shooting of 12-year-old Tamir Rice. Under Ohio law, residents may request an arrest in this manner without seeking the approval of either prosecutors or the police.
Two convicted killers who escaped from a maximum security prison in upstate New York remain on the loose.
"Jeb Bush plans to call for deepening U.S. economic ties with its European allies during a speech Tuesday in Germany, and to make the case that the two nations should also work more closely on issues of global security."
Vincent Bugliosi, the former Los Angeles prosecutor who put Charles Manson in prison, has died at the age of 80.
The Wisconsin Assembly is voting on a bill today that will end the state's mandatory 48-hour waiting period for handgun purchases.
Follow us on Facebook and Twitter, and don't forget to sign up for Reason's daily updates for more content.