Movie Reviews: Spy and Love & Mercy
Melissa McCarthy goes 007, and Paul Dano and John Cusack take on two sides of Brian Wilson.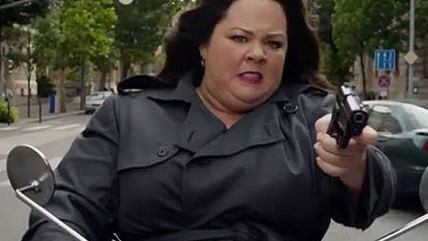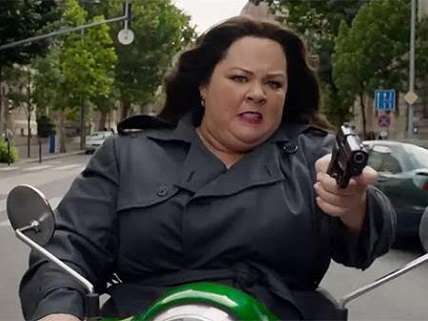 Spy is an old-school James Bond movie with Melissa McCarthy in the middle of it. This works—and works really well—not only because McCarthy is at the top of her push-back, wisecracking form. It also works because the writer-director, Paul Feig, has refrained from making a tired old-school spy-flick parody and has opted instead to play it straight. And so from the lush opening theme (sung by Ivy Levan in full-on Shirley Bassey mode) to the tuxedoed secret agents and cool Euro locations (Paris, Rome, Budapest), we get a sleek, gleaming tribute to the early Bonds (From Russia with Love is the central referent) with more laughs than the jokey later Bond films ever dreamed of achieving.
McCarthy's Susan Cooper is a CIA office drone stuck at Langley headquarters monitoring the tiny spy-cams and hidden microphones carried by field agents out on their glamorous assignments. Susan has a hopeless crush on one of these operatives, the suave Bradley Fine (Jude Law), who of course doesn't reciprocate her adoration. (He advises her to get some cats: "They're good company.") Bradley is currently on the trail of Bulgarian schemer Rayna Boyanov (Rose Byrne), who can lead him to a preening international bad guy named De Luca (Bobby Cannavale), who's in possession of a nuclear suitcase bomb he's planning to sell to evil terrorists. After Susan remotely witnesses Bradley getting shot in the face, she heads out into the field on an assignment of her own, determined to take down Bradley's killer, nail De Luca, and retrieve the bomb.
Susan turns out to be really good at this espionage thing, cold-cocking assassins, cat-fighting gorgeous kung-fu girls, and generally kicking bad-guy butt right and left. McCarthy—with much stunt-double assistance, no doubt—is very convincing as a twirly bone-breaker. And very funny, too, of course. (I'll leave her line of non-stop machine-gun zingers for your discovery.) She's also supported by an unusually hilarious cast, especially Byrne, a fount of foul-mouthed disdain; Miranda Hart, as Susan's flustery CIA pal; and Peter Serafinowicz as a horny CIA asset named Aldo ("One day I will fuck you," he coos to Susan). And among the funniest of these ancillary characters, surprisingly, is actual action man Jason Statham, playing a hot-headed rogue agent intent on establishing his tough-guy credentials at every opportunity. (He brags that when he once had an entire arm ripped off his body, he reattached it with the other arm).        
The movie manages to barrel right over its few weak spots. Once upon a time, unbridled trash talk, especially by women, was a fresh kick. Here, though, it's in overabundance, and eventually loses its effect. When Susan addresses one Nordic ruffian as "You Swedish Gummi Fish motherfucker," the line just lies there. Even more awkward is one of Aldo's over-heated come-ons: "In my country, there is a saying about women like you—'hot as fuck.'" Thud. There's also a prancingly gay stage show that pops up in the middle of a busy street for no reason, and recurring cameos by 50 Cent that should never have been contemplated. And being a little too long, the movie begins leaking pizzazz even before the over-extended helicopter sequence with which it concludes. By that point, though, you may be too laugh-drunk to complain.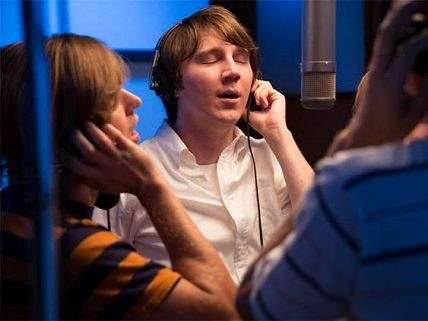 Love & Mercy
Love & Mercy is one half of an ambitious and moving musical biography. In telling the turbulent story of Beach Boys leader Brian Wilson, director Bill Pohlad and screenwriter Oren Moverman have divided Wilson's life into two very different periods. In one part, set in the 1960s, we find Wilson, played by Paul Dano, trying to guide his group away from the sunny California pop of early hits like "Surfin' U.S.A." toward more ambitious productions like "I Get Around" and "Don't Worry Baby" and then beyond, into the symphonically complex studio rock of "Good Vibrations" and the 1966 Pet Sounds album.
This part of the story alternates with scenes from the 1980s, in which Wilson, now played by John Cusack, is a wreck of a man, hollowed out by years of drugs and drink and mental illness. He has come under the control of a manipulative psychotherapist named Eugene Landy (Paul Giamatti), who has wrongly diagnosed the foundered Beach Boy as a paranoid schizophrenic, and keeps him docile on an array of drugs of his own choosing. This Wilson seems a hopeless mess. But then one day, on a visit with Landy to a Cadillac showroom, he meets a saleswoman named Melinda Ledbetter (Elizabeth Banks). Before departing, Brian leaves her a note. It says, "Lonely, scared, frightened." This latter-day section of the film then becomes the story of Melinda's determined campaign to free Wilson from Landy's domination and lead him back to a better world.
Neither Paul Dano nor John Cusack bears any resemblance to Brian Wilson. But Dano captures the soul of a man who hears music in his head that he struggles to bring to life in recording studios. The actor put on weight for the role (Wilson always had an incipient chubbiness), and he projects a wide-eyed SoCal sweetness that effectively echoes the long-gone days of California dreaming.
Cusack is another matter. He may be playing Brian Wilson, but we can never get past the fact that he looks and acts like John Cusack. On the other hand, he has a more difficult job. The Wilson of the 1980s is an ash heap of disintegrated personality, giving Cusack very little room to move in creating a character. He brings glimmers of humor to the part, and conveys hints of Wilson's buried soul with his eyes, but it's an uphill battle. And there's very little music to help out.
The movie isn't a traditional jukebox biopic—the classic Beach Boys tracks are mainly suggested in trippy audio overlays. And it has very little of the cornball exposition that has often cluttered this sort of film. (Although in a smoke-break scene, the great studio drummer Hal Blaine, played by Johnny Sneed, tells Brian, "You're blowin' our minds.") What we see for the most part is Wilson "playing the studio," as he puts it—leaning into a piano to strike notes with bobby pins, and coaching two close-miked cellists to double-bow the throbbing figure that would magically become a key component of "Good Vibrations." These depictions of Wilson's studio approach, and his nonpareil harmonizing with the other Beach Boys, were surely influenced by surviving period footage of the group at work on "Good Vibrations" and "Wouldn't It Be Nice."
Love & Mercy is an admirable attempt to do something new with the life of a great musician, and it's largely a success. Dano gives a rich, vulnerable performance as Brian; and Jake Abel, as Beach Boys singer Mike Love, and Bill Camp, as Brian's abusive father, Murry Wilson, bring a tangy grit to the story. While Giamatti is an odd choice to play Landy, he gives the role a skeezy energy; and Elizabeth Banks contributes valuable spirit to the lower-powered Cusack sections of the film. The movie's shortcomings are outweighed by the sincerity of the filmmakers' dedication, and by all of the things—especially in the story's early years—that they get right.