Fracking Impact on Drinking Water Negligible, Says EPA
Environmentalists demands to ban fracking are set back.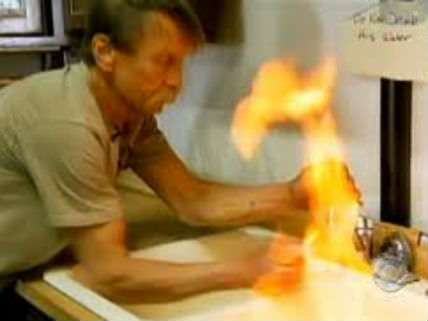 In his mendacious anti-fracking docudrama Gasland, activist Josh Fox notoriously showed a running faucet in a Colorado home being lit by a match. The implication was the fracking had contaminated the homeowner's well with natural gas. However, the water had tested in 2008 by the Colorado Department of Natural Resources, which reported to the resident: "There are no indications of any oil & gas related impacts to your well water." The agency concluded that the natural gas in his water supply was derived from natural sources—the water well penetrated several coal beds that had released the methane into the well.
Many other activists have been asserting that fracking should be stopped because it is causing widespread contamination of drinking water. The Environmental Protection Agency has just released it's draft Assessment of the Potential Impacts of Hydraulic Fracturing for Oil and Gas on Drinking Water Resources. As Bloomberg Business reports:
The 998-page EPA study concluded there are "mechanisms by which hydraulic fracturing activities have the potential to impact drinking water resources." But, it "did not find evidence that these mechanisms have led to widespread, systemic impacts on drinking water resources."

Thomas Burke, the EPA's top science adviser, told reporters that given 30,000 fracked wells each year, "the number of documented impacts on groundwater resources is relatively low."

Industry groups said that result vindicated what they have been arguing for years: drilling activity has risks, but fracking doesn't deserve new federal oversight because the risks of underground water contamination is low.

The study "is absolutely consistent with all the previous studies that show that effective well containment practices make hydraulic fracturing a very safe practice," Alan Jeffers, a spokesman for Exxon, said in a telephone interview Thursday.

The report's conclusions don't provide any support for fracking regulations proposed by congressional Democrats, said Larry Nettles, a partner with law firm Vinson & Elkins who represents several industry clients that supplied data for the study.

"I think this report effectively kills those bills," Nettles said.

The report is also a boost for President Barack Obama's reliance on natural gas to achieve cuts in greenhouse-gas emissions from power plants, an effort that's the mainstay of his agenda to combat climate change.
Natural gas and chemicals were not found to have migrated upward from the fracked shale zones to contaminate well water. The rare instances where contamination is suspected or occurred were almost entirely the result of wells that had flaws in their cement and steel casings or from surface water spills.
Of course, drilling companies must fully compensate for any damage they may cause.