Boehner Pushes Obama Trade Deal, NC to Get 72-Hour Waiting Periods for Abortions, Pluto Moons Have Erratic Orbit: A.M. Links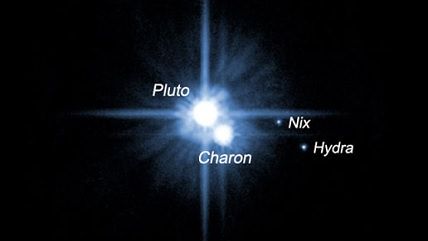 NASA

President Obama is getting some help from Speaker John Boehner in pushing for passage of the Trans-Pacific Partnership; Boehner argues the legislation will provide a check on the president's power.

North Carolina Gov. Pat McCrory (R) says he'll sign legislation mandating a 72-hour waiting period for women seeking an abortion.
Former Texas Governor Rick Perry announced he'll be seeking the Republican nomination for president. Jeb Bush is expected to make an announcement in Miami on June 15. Sen. Ted Cruz (R-Tex.), meanwhile, apologized for keeping a Joe Biden joke in his stump speech. Too soon.
With just a couple of days left to make its first 300 million euro payment, Greece is still seeking to negotiate the terms of the repayment.
A former FIFA vice president says he has documents showing the association football governing body meddled in elections in Trinidad and Tobago and that he fears for his life. He was arrested last week and released on bail.
MERS is spreading in South Korea in the largest outbreak of the respiratory syndrome outside of the Middle East.
Go home, moons of Pluto, you're drunk.
Follow Reason on Twitter, and like us on Facebook. You can also get the top stories mailed to you—sign up here.