Art Spiegelman Pulls New Statesman Cover Because It Wouldn't Print a Cartoon Featuring Mohammed: 'Death by a thousand buts'
Actually, a cartoon featuring a turban-wearing smiley face that may or may not be Mohammed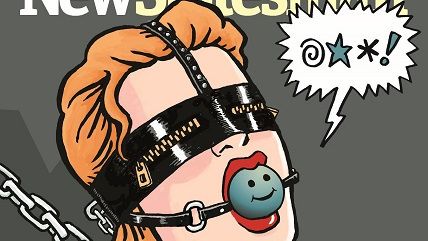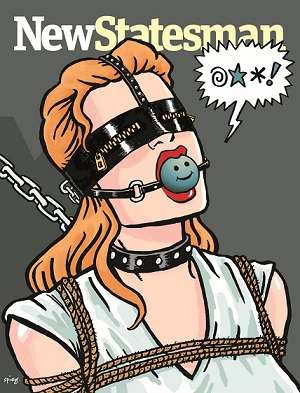 The British magazine New Statesman's latest issue, guest edited by Neil Gaiman and Amanda Palmer, has the theme "saying the unsayable," ended up without a cover by Art Spiegelman when the higher ups at the magazine declined to reprint his cartoon about free speech in the wake of the Charlie Hebdo massacre called "First Amendment Fundamentalist." It may or may not contain a depiction of Mohammed, who Muslims consider a prophet.
Gaiman and Palmer, who Spiegelman said were caught in the New Statesman's crossfire, explained what happened to Spiegelman's cover on Gaiman's blog:
Running a magazine is insanely hard work, and having to deal with the crisis at the last minute was no fun for the New Statesman team, who have been supportive of us all the way, and who wound up, at the end, face to face with, and having to deal with, what is and isn't unsayable. (And from their perspective, as they expressed it to us, it was also a freedom of speech issue: they didn't want to run the comic, and couldn't be pushed into it.)

But…

This is how we get into this mess in the first place. "We would, but…." "We should, but…." "We believe in freedom of the press, but…." It's death by a thousand buts. We wanted to say the unsayable, and draw the undrawable. We ended up feeling like we'd tried, and, due to human error on our parts and on the magazine's, failed.
Gaiman and Spiegelman were among six authors who agreed to co-host PEN America's annual gala after several of the co-hosts led a boycott of the event because the organization, dedicated to defending free speech, was honoring the slain editors of Charlie Hebdo.
The argument from the anti-Hebdo crowd was that the editors were "punching down" by mocking people who eventually came and killed them for it. Here's the flip side to that: A recent statistical analysis found that white male characters were overrepresented in New Yorker cartoons. But most of the subjects of New Yorker cartoons are jerks. Would making them minorities, or women, be considered punching down by some people? Maybe even the same ones complaining about the cartoons now?
Via the Comic Book Legal Defense Fund