Draft Biden Campaign Focusing on Iowa
A man, a plan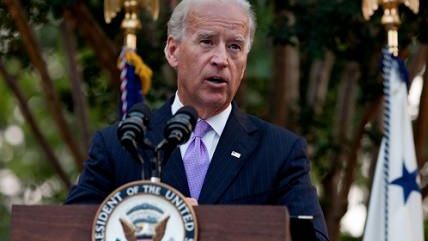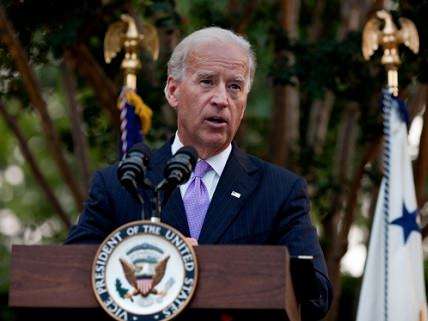 The field of 2016 presidential candidates is getting crowded. According to Politics1.com, at least 12 Republican candidates have either announced their candidacies or launched exploratory committees. And while Hillary Clinton may be taking up all the air in the room, Politics1.com identifies at least 4 other Democrats that have announced their candidacies or launched exploratory committees—Martin O'Malley, Bernie Sanders, Jim Webb, and Lincoln Chafee.
One Democrat still missing from the field is Vice President Joe Biden, although a Draft Biden campaign was launched by former staffers earlier this year. As Chicago Magazine's Carol Felsenthal notes, Clinton seems to have taken the role of an incumbent vice president in the developing Democratic race. Felsenthal reports on the Draft Biden campaign, headquartered in Chicago:
Operating out of an office on West Washington Street, the Biden draft started small and remains small. Its leader, Will Pierce, 27, is a veteran of both Obama/Biden campaigns, as well as a veteran of U.S. involvement in Iraq and Afghanistan. Pierce says the movement started with 50 supporters and has amassed 50,000 activists around the country. Though the operation is bare bones, Pierce claims it's slowly gaining what Draft Biden people call "Joe-mentum." (Not the best slogan, of course, considering what happenedthe last time someone used that phrase.)

I called Pierce on Tuesday to determine just how serious this push is. An early question, though, was why locate in Chicago in the first place. "[It's] an easy location in the center of the country," says Pierce, who lives in Hyde Park, "and it's close to Iowa." Draft Biden is focused on a respectable showing next year in the state that gave Hillary a third-place finish in 2008. (Biden finished fifth that year and dropped out of the race, only to be picked as the vice presidential candidate a few months later.)

"We're opening a field office in Iowa," Pierce says. "We've had ten events so far, in private homes and in coffee shops, and we're focusing on endorsements from state representatives and senators."
The draft campaign also apparently has Dick Harpootlian, a former state Democratic party chair in South Carolina and frequent face on Fox News, advising them in South Carolina, should Biden perform well enough in Iowa and New Hampshire, where the first contests are held. Of course Joe Biden actually has to run first. By comparison, the last two sitting vice presidents to run for president—Al Gore and George H.W. Bush—announced their runs in June 1999 and October 1987. Gore faced only New Jersey Senator Bill Bradley, to whom he almost lost New Hampshire, while Bush faced Sen. Bob Dole and Pat Robertson, who won 9 states between them. That year, Joe Biden ran for president too, announcing in June, briefly holding frontrunner status, but dropping out later in 1987 over a plagiarism scandal.