Angry Arizonans Confront Agents at Border Patrol Checkpoints
"Our children live in a world where they pass through a military-style checkpoint every morning and afternoon for school."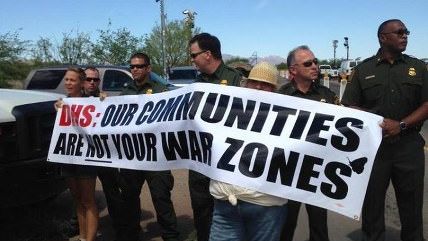 (End Border Patrol Checkpoints)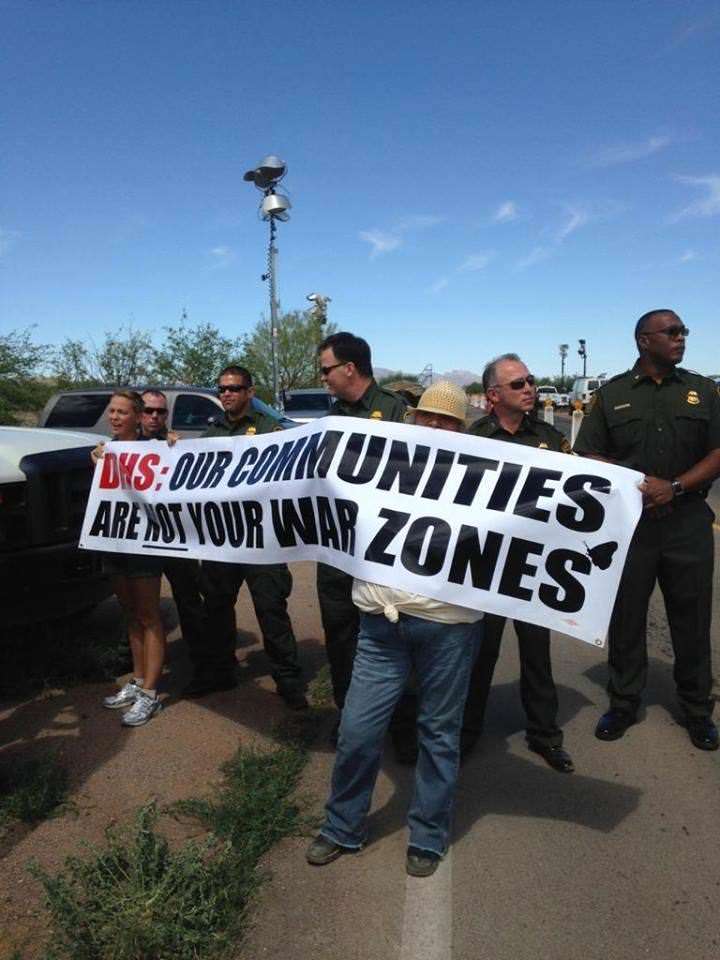 Yesterday, residents of Arivaca, Arizona, a town I've written about before, stepped beyond complaining about the Border Patrol internal checkpoint that turns every trip past the city limits into an airport security experience. Instead of just picketing, they staged sit-ins at the checkpoint and, temporarily, disrupted the operation.
Border Patrol agents were reportedly un-thrilled by the experience, but their discomfort doesn't compare to the everyday hassles they inflict on people.
What's it like to live by these checkpoints? The End Border Patrol Checkpoints Facebook page describes the experience:
Our children live in a world where they pass through a military-style checkpoint every morning and afternoon for school. Every time their parents take them to Tucson shopping. Every time they go to a friends house in Amado, or to Karate in Sahuarita. Men carry guns, dogs bark, lights flash.
Yeah. Good times. Well, not really, for those who get probed and prodded every day. So, the locals started monitoring the checkpoint, located miles from the actual border. Agents got nasty in response, refusing to identify themselves, cursing at the locals, and blocking their view of agents' activities.
So Arivaca residents stepped it up. About 100 of them showed up for a planned protest yesterday. According to Border Community Action:
Upon entering the checkpoint, they were met with a blockade of armed Border Patrol agents who used physical force, attempting to move the residents back. Despite this intimidation, protesters held their ground and sat-in while community members held a public hearing calling for the removal of the checkpoint.
Residents called on Rep. Raúl Grijalva (D-Ariz.) to hold the hearings he promised last year on the negative impact of such checkpoints. Grijalva seems to be a little conflicted on the issue, since he has protested specific outrages, while also demanding more Customs and Border Protection funding and personnel.
So, Arivaca residents may not want to hold their breath for any improvements.
The University of Arizona's Terry Bressi has documented and recorded a series of unpleasant encounters, including arrest, at Border Patrol checkpoints. He was interviewed for Reason TV by Tracy Oppenheimer (below).