WATCH: Chargers Are Holding San Diego Hostage for a New Football Stadium. Here's Why the City Should Tell Them to Shove Off.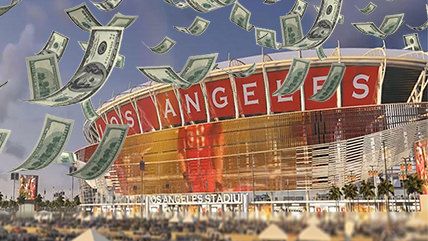 The city of Los Angeles has long been used as a bargaining chip for NFL franchises that want to get better stadium deals in their hometowns. And with two stadium proposals moving forward in both Inglewood and Carson, CA, bidding wars (involving loads of public cash) have erupted in towns like St. Louis to counteract the threat of losing their home team.
San Diego appears to be the latest victim of this tactic. Faced with the threat of the Chargers moving north to Carson, the San Diego city council has released a plan for a $1.3 billion dollar stadium that will mostly be funded with public money.
Here's the scoop on the proposal from Bloomberg:
On Monday, amid threats by the Chargers to bolt for Los Angeles, a task force commissioned by San Diego mayor Kevin Faulconer released a proposal for financing a new stadium in Mission Valley, the site of the team's current home, Qualcomm Stadium. The Citizens' Stadium Advisory Group plan for the $1.3 billion venue will not require a public vote (surprise) but will require tons of public funding.

The plan promises no new taxes to offset the cost, relying instead on financing from the Chargers and the NFL: $300 million from the team and $200 million from the league. But the public cost detailed in the plan isn't insignificant: $121 million each from the city and county, and city-owned land valued at $180 million. The advisory group also estimates $116 million from a state program to pay for infrastructure improvements, including parking and mass transit around the site. And there's $40 million in taxes from the proposal's new, on-site hotel, of which the city won't see a dime because it will pay for more improvements. That's already $578 million taxpayer dollars sunk into this project.

While the group claims that only $578 million in public dollars will be used for this project, economist Neil deMause over at Field of Schemes reports that there could be $352 million in additional subsidies hidden within the deal.
Numerous studies have shown that stadiums often fail to live up to their promises of increased economic revenue and jobs. The lack of economic benefit combined with growing budget deficits across the country have soured public support in favor of spending taxpayer dollars to build facilities for privately run sports franchises.
"Sports Stadiums Are Bad Public Investments. So Why Are Cities Still Paying for Them?" was produced by Alexis Garcia and the original release date March 17, 2015. About 5 minutes. Original writeup below.
"Anybody that drives around Southern California can tell you the infrastructure is falling apart," says Joel Kotkin, a fellow of urban studies at Chapman University and author of the book The New Class Conflict. "And then we're going to give money so a bunch of corporate executives can watch a football game eight times a year? It's absurd."

When the Inglewood City Council voted unanimously to approve a $1.8 billion stadium plan on February 24th, hundreds of football fans in attendance cheered for the prospect of a team finally returning to the Los Angeles area.

On it's face, the deal for the city of Inglewood is unprecedented—Rams owner Stan Kroenke has agreed to finance construction of the stadium entirely with private funds. The deal makes the stadium one of the most expensive facilities ever built and is an oddity in the sports world, where most stadiums require millions in public dollars to be constructed.

And while the city still waits to hear if it will indeed inherit an NFL team, the progress on the new privately-funded Inglewood stadium has set off a bidding war between other cities that are offering up millions in public subsidies to keep (or attract) pro-sports franchises to their area.

St. Louis has proposed a billion dollar waterfront stadium financed with $400 million in tax money to keep the Rams in Missouri. And the San Diego Chargers and Oakland Raiders have unveiled a plan to turn a former landfill in Carson, California, into a $1.7 billion stadium to keep the Rams from encroaching on their turf. While full details of the plan have yet to be released, it's been reported that the financing would be similar to the San Francisco 49er's deal in Santa Clara, which saw the team receive $621 million in construction loans paid for with public money.

Even the fiscally conservative Scott Walker is not immune to the stadium spending craze. The Wisconsin governor wants to allocate $220 million in public bonds to keep the Milwaukee Bucks basketball franchise in the area. Walker has dubbed the financing scheme as the "Pay Their Way" plan, but professional sports teams rarely pay their fair share when it comes to stadiums and instead use public money to generate private revenue.

Pacific Standard magazine has reported that in the last 20 years, the U.S. has opened 101 new sports facilities and stadium finance experts say that almost all of them have received public funding totaling billions of dollars. Politicians generally rationalize this expense by stating that stadiums will generate economic revenue and job opportunities for the city, but Kotkin says those promises are rarely realized.

"I think this is sort of a fanciful approach towards economic development instead of building really good jobs. And except for the construction, the jobs created by stadia are generally low wage occasional work."

"The important thing that we've forgotten is 'What is the purpose of a government?'" asks Kotkin. "Cities instead of fixing their schools, fixing their roads or fixing their sewers or fixing their water are putting money into ephemera like stadia. And in the end, what's more important?"

Produced by Alexis Garcia. Camera by Garcia and Justin Monticello. Music by Jason Shaw.

Approximately 5 minutes.

Scroll down for downloadable versions and subscribe to Reason TV's YouTube Channel to get automatic updates when new stories go live.