ISIS Takes Historic Syrian City, The Real Effect of Riots, Highlights from Rand Paul's Patriot Act Protest: A.M. Links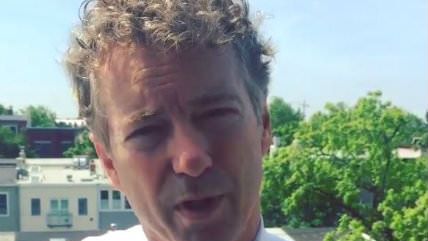 (Screenshot from Rand Paul/Instagram)
Screenshot from Rand Paul/Instagram

Sen. Rand Paul led an attack on the Patriot Act, NSA snooping, and a whole lot else from the Senate floor yesterday, in a 10+ hour filibuster-lite. Matt Welch offers up the highlights here; Nick Gillespie makes the case for mainstream Republicans to side with civil libertarians on this one; Scott Shackford explains what the stunt has to do with the new USA Freedom Act; and Brian Doherty decodes Paul's "dog whistle to the antiwar libertarians."

Do "riots work"? Sure, according to one new study—if you want to make people more conservative, that is.
ISIS militants have now taken the historic Syrian city of Palmyra, five days following the group's takeover of large Iraqi city Ramadi.
An Indian mom has placed the country's first newspaper matrimonial ad seeking a same-sex marriage partner for her son. "In the end, I don't understand the big deal," she writes in Quartz.
L.A. business leaders say the real danger in the city's newly-passed minimum-wage hike is tying the minimimum wage to inflation.
How to talk to sex workers socially.
All hail American IPAs!
Follow us on Facebook and Twitter, and don't forget to sign up for Reason's daily updates for more content.