Boston Bomber Gets Death Sentence, Rick Perry Running Again, B.B. King Dead: P.M. Links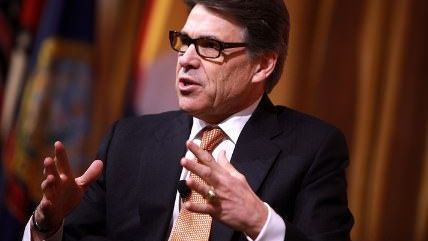 (Gage Skidmore / photo on flickr)
Credit: Gage Skidmore / photo on flickr

Add former Texas Gov. Rick Perry to the GOP presidential candidate stew.

Dzhokhar Tsarnaev, the surviving Boston Marathon bomber, has been sentenced to death.
ISIS has seized control of parts of Ramadi, the capital of Iraq's largest province.
Sixteen cops in Miami Beach are being probed over a bunch of racist and pornographic e-mails sent out by two former top officers. The city is concerned their testimony may have been compromised by racial bias.
An anonymous social care worker contacted The Atlantic's Conor Friedersdorf and explained why it's dangerous to call the police in to deal with developmentally disabled people.
The prime minister of Luxembourg, Xavier Bettel, is the first European Union leader to get gay-married.
Blues legend B.B. King is dead at the age of 89. He reportedly died peacefully in his sleep.
Follow us on Facebook and Twitter, and don't forget to sign up for Reason's daily updates for more content.