Amtrak Engineer Has No Recollection of Crash, Dispatcher First to Sue, Clinton Promises Donors She'll Be More Authentic, Baltimore COs Charged With Looting During Riots: A.M. Links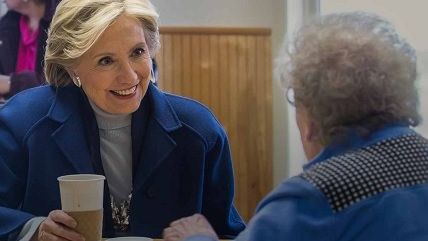 Hillary Clinton

The first lawsuit over this week's deadly Amtrak derailment in Philadelphia comes from a dispatcher injured in the crash. A lawyer for the train's engineer told Nightline his client had no recollection and "no explanation" for what happened, but insisted he was willing to talk to investigators. The district attorney in the Bronx, meanwhile, announced no charges would be filed against a train engineer who fell asleep while at the controls and caused a deadly derailment in 2013.

The White House believes President Obama has secured the support of Gulf countries attending a summit this week on the issue of negotiations with Iran.
Hillary Clinton promised donors in Brooklyn she'd present a more authentic version of herself in this campaign than she did eight years ago.
Two correctional officers in Baltimore were charged with looting a convenience store during riots that broke out in the aftermath of the death of Freddie Gray in police custody.
Reddit is instituting a new policy to prevent harassment, something it says is a leading reason its users don't recommend the site to friends.
A military coup in Burundi failed after President Pierre Nkurunziza returned to the country.
Follow Reason on Twitter, and like us on Facebook. You can also get the top stories mailed to you—sign up here.