Mayweather and Pacquiao: Bureaucrats Bet on Meddling
The sports industry can look after its own wagers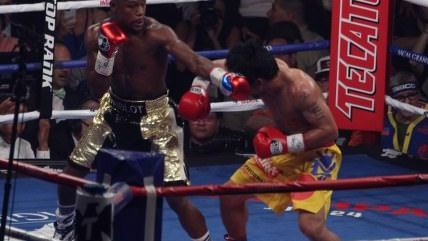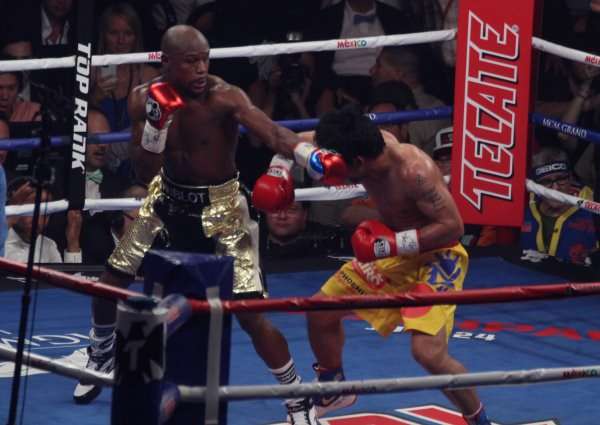 Floyd Mayweather was Manny Pacquiao's opponent in the "fight of the century" this past Saturday, but the Filipino is now facing a more daunting foe: government regulation.
After losing the fight, Pacquiao and his team divulged to the media that the 36-year-old boxer had competed with a torn rotator cuff sustained in training a few weeks prior and would soon undergo surgery. Pacquiao told the Nevada State Athletic Commission (NSAC) about the injury two-and-a-half hours before the fight, something he was required by its bylaws to disclose on the pre-fight medical questionnaire filled out the day before the bout.
This failure to disclose the injury is problematic for gamblers, who wagered a collective $60 to 80 million in legal bets (a tiny fraction of all bets) on the fight under the assumption that each competitor was fully healthy. That said, it's worth noting that had Pacquiao followed NSAC rules, only bets placed in the final 24 hours before the fight would have been affected by this injury information—the state was happy to sanction tens of millions in wagers placed prior to this deadline. Even so, the NSAC is now threatening Pacquiao with a fine or suspension.
While the NSAC's claimed objectives do have merits—disclosing injury information probably encourages more confidence in gambling—there's no reason these rules have to be enforced by the state rather than by casinos and private boxing federations that directly profit from sponsoring transparent sporting events. Agencies like NSAC, the Nevada Gaming Control Board, and Nevada Gaming Commission, which cost Nevada taxpayers hundreds of millions annually, are essentially taxpayer-funded quality control departments for the Nevada sports gambling industry (which generates well over $200 million a year in profits on wagers) and boxers who regularly compete for purses worth tens or hundreds of millions of dollars.
Billion-dollar sports leagues are more than capable of regulating themselves. They hire and pay for their own referees, and they fund their own off-the-field investigations too. It's not as if the National Football League (NFL) will simply fire the investigators looking into the New England Patriots' "Deflategate" scandal and prompt the federal government to create a taxpayer-funded regulatory agency to probe whether the Patriots intentionally deflated footballs.
And not all of the objectives and tactics of gambling regulatory committees are laudatory. Organizations like the NSAC impose all kinds of civil liberties intrusions on athletes. Boxers are not allowed to take certain pain-killing drugs (as Pacquiao was barred from doing on Saturday), and NSAC has the authority to ban or fine fighters who violate its rules.
It's one thing for a private boxing federation to such adopt such rules for freely employed fighters, but it's wholly different when the regulations are coercively imposed on all Nevada boxing matches by a government body. If a federation is willing to host boxers who do not fully divulge every injury, fans are willing to pay for tickets and TV subscriptions, and bettors are willing to place money on fights with such uncertainty, why should this innocuous act between consenting parties be illegal?
It's much better to simply let the market decide what competition protocols win out and under what circumstances gamblers are willing to place bets. It's common practice for sportsbooks to freely take wagers off the board if there are lingering questions about injuries or player suspensions.
This sports regulation starts a slippery slope. If bettors require knowledge of every piece of relevant information, what's to stop them from also demanding knowing what players a coach will start, what defensive schemes they intend to run, etc.? Could a spurned bettor file a lawsuit against Seattle Seahawks coach Pete Carroll for not divulging before last February's Super Bowl that if it came to 2nd-and-goal from the 1 on the final drive, he would call a pass play rather than hand the ball to Marshawn Lynch? Total transparency is unlikely in any context. On Wall Street, it's not as if investors are barred from buying shares of Apple because the company doesn't fully divulge what products it may be releasing, store locations it may open, or employees it may hire.
The repercussions Pacquiao could face from the NSAC are potentially only the tip of the regulatory iceberg. A class-action lawsuit has also been filed by two fans against Pacquiao and his team for failing to disclose his injury, demanding refunds for ticket and pay-per-view sales. It's clearly an opportunistic money-grab for those having buyer's remorse after a disappointing match.
These disgruntled fan lawsuits are not without precedent. In 2007, a judge dismissed a suit against the Fédération Internationale de l'Automobile (FIA) by fans upset about a 2005 Indianapolis Formula One race that only included six cars. And in 2010, a suit brought by a New York Jets fan against the New England Patriots and head coach Bill Belichick for the team's role in the 2007 "Spygate" scandal was similarly dismissed.
The same result is likely to occur with the Pacquiao case, but it's reprehensible such frivolous lawsuits have their day in court (and require taxpayer money to adjudicate). As Sports Illustrated legal analyst Michael McCann noted on Twitter, "If Manny Pacquiao owes fans money because he didn't disclose an injury, how many lawsuits will we see filed against NFL players this fall?"
To be clear, by allowing gambling at all, Nevada is relatively liberty-friendly by comparison to other states. But its python-like regulatory grip on the industry is anything but ideal.