Hillary's Fundraising Woes Fester, Federal Scrutiny for Baltimore PD, U.S. Trains Syrian Rebels: P.M. Links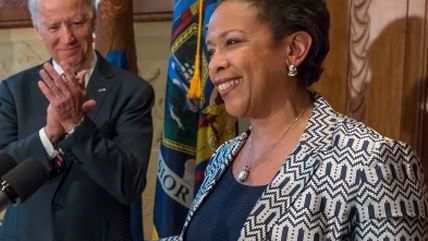 U.S. Department of Justice

"It's not good," prominent economist Jeffrey D. Sachs says of Hillary Clinton's interesting, complicated, and opaque fundraising apparatus. The UN advisor's comments are taken as evidence that the controversy has staying power.

President Obama's marketing efforts on behalf of the TPP trade deal have inserted him into the rivalry between sneaker-makers Nike and New Balance.
Britain's pollsters scramble to figure out what they did wrong after completely mis-calling yesterday's election.
The U.S is training rebels in Syria in an effort to build a force that can stand up to ISIS. Unlike the Iraqi army.
The U.S. Department of Justice will investigate the Baltimore Police Department, which has seemed a bit excessively beat-y and kill-y, even by modern standards. Actually, the DOJ is overwhelmed by policing scandals.
Facebook users tend to live in a bit of a political echo chamber. Liberal Facebookers get less than a quarter of their hard news from righty sources, while conservatives get about a third of their news from liberals. We all suffer the cat photos, though.
Just in case you need more incentive to avoid catching Ebola, the virus lingers on in the eye of a physician who survived a bout with the lethal bug.
Follow us on Facebook and Twitter, and don't forget to sign up for Reason's daily updates for more content.