A.M. Links: Charlie Hebdo Honored for Free Speech Courage, Germanwings Co-Pilot May Have Practiced for Fatal Crash, Investigators Probe ISIS Ties in Texas Attack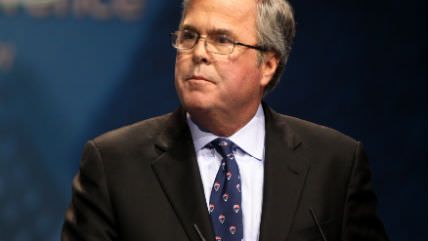 Credit: Gage Skidmore / Flickr.com

Germanwings co-pilot Andreas Lubitz may have practiced a rapid descent on a previous flight in preparation for his deliberate crashing of Airbus 320 on March 24.
Gerard Biard, the editor in chief of Charlie Hebdo, accepted the PEN American Center's Toni and James C. Goodale Freedom of Expression Courage Award on behalf of the magazine in New York City last night. "Growing up to be a citizen, is to learn that some ideas, some words, some images can be shocking," he said in his acceptance speech. "Being shocked is part of democratic debate. Being shot is not."
"Investigators are trying to determine whether Elton Simpson and Nadir Soofi, the two gunman killed at the Texas art contest Sunday night, received specific directions from the Islamic State of Iraq and Syria (ISIS) or were simply inspired by the terrorist organization to carry out attacks in the U.S."
According to a new poll, Jeb Bush is trailing far behind his fellow Republican presidential hopefuls in the key state of Iowa.
Music icon Prince will perform at a "Rally 4 Peace" concert in Baltimore this Sunday.
Follow us on Facebook and Twitter, and don't forget to sign up for Reason's daily updates for more content.