Whistleblower Alleges Continued Retaliation by VA
Digging through whistleblowers' medical records for ammunition? That's low.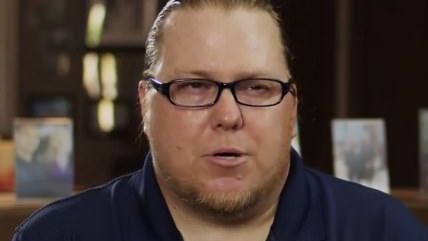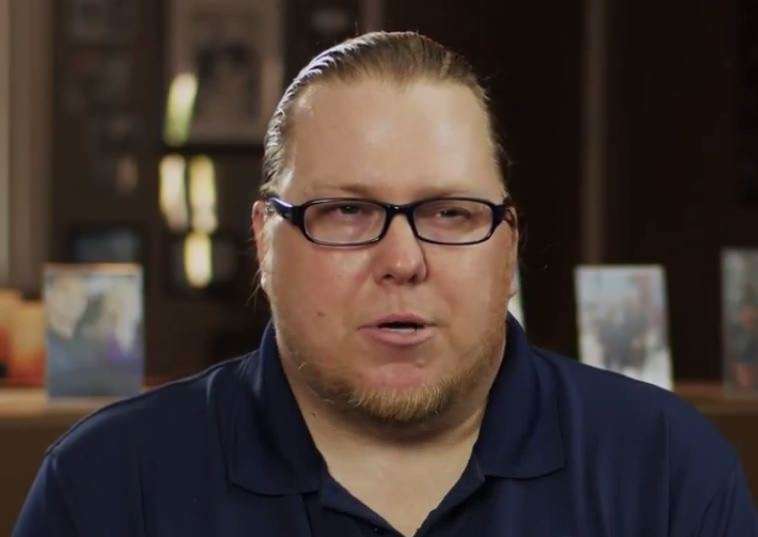 If you were a Veterans Administration whistleblower and had evidence that people who have no business digging through your medical records were pawing through them like back issues of National Geographic, how would you react? Would it make a difference if the federal official tasked with protecting whistleblowers had told a congressional committee that "the medical records of whistleblowers have been accessed and information in those records has apparently been used to attempt to discredit the whistleblowers"?
It might have a chilling effect, right? Then again, maybe it's supposed to.
In December 2014, Brandon Coleman, a VA addiction therapist, followed procedures to charge the Phoenix VA Health Care System—yes, that branch of the VA—with mishandling the treatment of suicidal veterans. Soon afterward, he was placed on administrative leave for, allegedly, threatening a fellow employee—a charge he denies. He filed a complaint with Office of Special Counsel, which is tasked with protecting federal whistleblowers.
Coleman's allegations about bungled treatment haven't been substantiated yet, though there's no doubt about serious trouble at the Phoenix VA. Department of Veterans Affairs Assistant Inspector General John Daigh conceded last September that gamed waiting lists for care at the facility contributed to the deaths of veterans. Coleman's claims about inadequate care for suicidal veterans also echo those made by Dr. Katherine Lynn Mitchell about the same facility to the House Committe on Veterans Affairs last summer. The VA settled with her after her she reported suffering retaliation.
In an email, Dr. Mitchell told me, "Brandon Coleman spoke up about life-threatening deficiencies in the care of suicidal patients at the Phoenix VA. Being willing to speak up about this issue despite knowing the potential administrative backlash is a sign of someone with a strong sense of professional ethics and compassion for human life."
Given the record of the VA in general, and the Phoenix facility in particular, the disciplinary action against Coleman so soon after he raised his concerns looked…odd to a lot of people.
Those people include Sen. John McCain (R-Ariz.), who wrote in February in support of Coleman to VA Secretary Robert McDonald (new-ish in his role after the scandal-plagued Eric Shinseki resigned last year).
I write you today to discuss my concerns about recent allegations regarding the mishandling of veterans' suicides at Phoenix VA Health Care System (PVAHCS) and the way that those allegations have been apparently handled. According to those reports, Brandon Coleman, a whistleblower who reported concerns about the way PVAHCS managed the care of patients at risk of suicide, was subject to harassment and intimidation by his superiors. My office has since learned that Mr. Coleman has been placed on administrative leave. Without prejudging the merits of Mr. Coleman's concerns but in light of recent revelations regarding related misconduct at PVAHCS, I urge you to look into and address this situation immediately.

As we have learned over the last few months, Mr. Coleman does not appear to be alone. In a June 2014 report, the Office of Special Counsel (OSC) investigated 37 claims of whistleblower retaliation at the VA.
Actually, last month, Carolyn Lerner of the Office of Special Counsel told (PDF) the House Committee on Veterans' Affairs, Subcommittee on Oversight and Investigation, that VA employees now constitute 40 percent of her agency's caseload, in terms of complaints of retaliation against whistleblowers. That was in the same hearing in which she noted that information contained in private medical records has been used as part of that retaliation.
Secretary McDonald himself met with Coleman a few weeks after Sen. McCain sent his letter. Yet…Coleman remains on administrative leave, and it looks like he's still being targeted.
Coleman sent me a copy of the Sensitive Patient Access Report that he received in March from the Phoenix VA/Privacy officer. It reveals access to his VA medical records by a dozen different people from October 28, 2014 through March 10, 2015. That's odd because, he told me, "the only care I received was getting my eye glasses" in December and January.
Could it be a mistake? That's what Coleman says he was told the last time he found unexpected people digging through his medical records. But accessing the records by accident is unlikely, he told me, because of the "restricted record" warning screen that pops up to ask database users if they really want to pull up the information they've requested.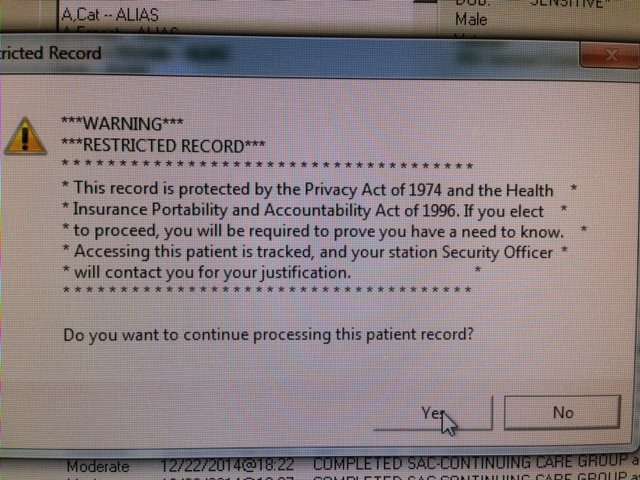 OSC representatives confirm that Brandon Coleman is one of the VA whistleblowers they represent, and that his case is open, though they couldn't go into detail. Officials at the Phoenix VA didn't respond to inquiries by press time. I'll update if they do.