Movie Review: A Mixed Verdict for True Story
James Franco and Jonah Hill play it straight in a suspense-free true-crime drama.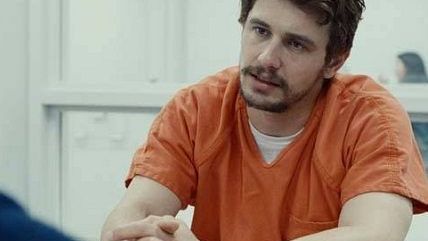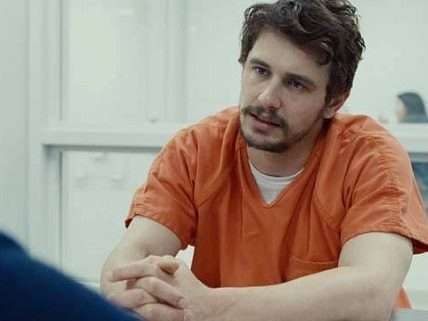 True Story is a cat-and-mouse murder tale in which the mouse is a self-destructive sap and the cat has been declawed. The movie features two good actors, Jonah Hill and James Franco, doing solid work; but it's oddly slack and uninvolving.
The picture is based on a mea-culpa memoir by disgraced New York Times Magazine writer Michael Finkel, who was fired in 2002 after it was discovered that he had fabricated parts of a feature he'd written about child slavery in the West African cocoa trade. Returning in despair to his home in Montana, Finkel was contacted almost immediately by a reporter in Portland, Oregon, who informed him that a local man named Christian Longo—a fugitive being sought in connection with the brutal murders of his wife and three small children—had been arrested in Mexico, where he had been partying with backpacking youths and passing himself off as… New York Times writer Michael Finkel.
In his memoir, in which he berates himself at length for his lying ways, Finkel says that he felt strangely "honored" that anyone would care enough about his writing to impersonate him. He saw in the Longo case, in which he now played a weird part, the makings of a book—a "second chance" for his shattered career as a journalist. He began corresponding with Longo, and was soon traveling to Oregon to visit him in the county jail in which he was being held to await trial.
The 28-year-old Longo turned out to be an intelligent man with a wry, seductive charm. He had followed Finkel's work in various publications, and aspired to become a writer himself. Although besieged by media interview requests, he agreed to grant Finkel exclusive access. He was cagey about his role in the killings, but promised to tell Finkel the true story… eventually.
In the normal course of a movie about a depraved murderer, you might expect the crime to be staged for maximum shock, and the hunt for the killer to be played for tension and excitement. But in making his first feature film, English theatre director Rupert Goold faced considerable limitations. There's no acceptable way to exploit the murder of children (the eldest of Longo's three kids was only four years old) for cheap horror. And so Goold wisely opted for an impressionistic depiction. In a memorably eerie opening montage, we see a teddy bear dropping down into a suitcase in which an unconscious child is curled; then we see the suitcase plunging into water, and then being opened in a hospital, where the waterlogged teddy bear is grimly extracted.
This approach is sufficient to convey the hideous nature of the crime. (The child in the suitcase was apparently still alive when she was drowned.) The subsequent search for Longo, however, is more of a problem. It's described in some detail in Finkel's book, but Goold was constrained by time limitations (the movie runs an hour and 40 minutes). So he tosses off the capture of Longo (Franco) in a few quick scenes at the beginning. This sequence offers little action, unfortunately, and does nothing to build tension, from the lack of which the rest of the movie suffers considerably.
The film focuses in large part on Longo and Finkel (Hill) talking on phones through the reinforced glass of a sterile jailhouse visiting room. Hill is carefully restrained in portraying a onetime star journalist, now humbled, who's desperate to get back in the game. Longo quickly realizes this, and proves himself a master manipulator. "When I was being you," he tells Finkel, "it was the happiest I've been in a long time." Finkel, a pathetically unhappy man himself, decides to accept that Longo may be innocent—that he, too, may deserve a second chance. This little dance is intended to be compelling, but it grows tiresome. Whether or not Longo killed his family is never much of a mystery to us. And since Franco plays him as a pretty nice guy (an illusion also conveyed in Finkel's book), he comes across as a monster who's entirely non-monstrous. The movie never probes his inner darkness.
Franco gives a subtle performance here, but he doesn't have much to play. (Felicity Jones, who flits through the film as Finkel's wife, has even less.) And by the time we get to Longo's trial, where he enters an unexpected plea that endangers the book deal Finkel has scored with a New York publisher, the movie's did-he-didn't-he setup has been exhausted. At the end, we feel a little shortchanged by the lack of payoff.