A.M. Links: Hillary Clinton's Immigration Troubles, ISIS Launches New Offensive in Iraq, Letterman Announces Final Late Show Guests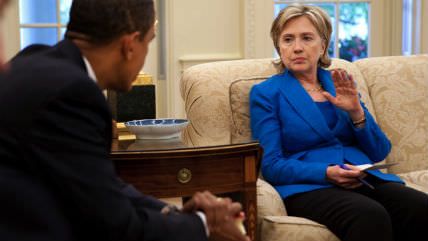 Credit: White House / Flickr.com

Islamic State fighters in Iraq have launched a new offensive outside Baghdad.
"Hillary Clinton wrong on family's immigration history, records show."
Hillary Clinton may be running for president, but that won't stop the Bill, Hillary and Chelsea Clinton Foundation from accepting donations from foreign governments.
Late Show host David Lettterman has announced his final roster of guests. Letterman's last Late Show show will air on May 20.
Thousands of fast-food workers went on strike yesterday for higher wages.
Time has named Justice Ruth Bader Ginsburg as one of its "100 Most Influential People." Her entry in that list was written by Justice Antonin Scalia, who said Ginsburg is "almost always correct."
Follow Reason on Twitter, and like us on Facebook. You can also get the top stories mailed to you—sign up here.