Rubio in the Running, Russia Arms Iran, Arias Sentenced to Life in Prison: P.M. Links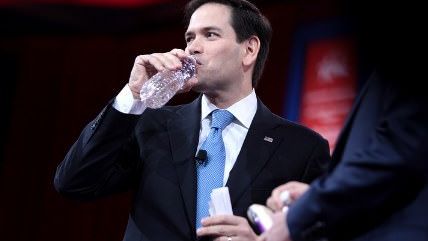 (Gage Skidmore / photo on flickr)
Credit: Gage Skidmore / photo on flickr

As he previously teased, Sen. Marco Rubio (R-Fla.) has thrown his hat into the ring to be the Republican Party's nominee for president in 2016.

A school employee at Wayne Community College in Goldsboro, North Carolina, was killed in an on-campus shooting.
The Jodi Arias saga is apparently over. She has been sentenced to life in prison without parole for murdering her ex-boyfriend.
Russia will be sending surface-to-air missile systems to Iran, so that's nice for them.
The gay couple featured in Hillary Clinton's video announcing her run for president have invited her to their wedding.
It's not your imagination: The process of flying anywhere in the United States has gotten worse in the last year, with an increase in late flights, lost baggage, and complaints.
Follow us on Facebook and Twitter, and don't forget to sign up for Reason's daily updates for more content.