Unions Eyeing 2016 California Ballot for Tax Hike Measures
Watch out voters!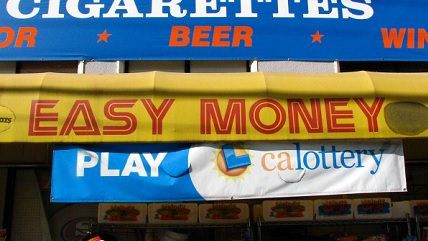 As California faced massive deficits, Gov. Jerry Brown (D) and legislative leaders asked taxpayers to raise sales and income taxes to prevent cuts in funding for public schools and other services. Voters, repeatedly assured that Proposition 30's increases were only temporary, approved the 2012 measure by a solid margin.
"Nothing is so permanent as a temporary government program," said free-market economist Milton Friedman. Apparently, there's nothing as permanent as a temporary tax, either, as many in the same coalition that backed Proposition 30 are preparing another campaign to make it permanent.
And an extension of Proposition 30 (or, reportedly, just the income-tax piece of it) will likely be just one of several early tax-hike proposals that supporters will submit to the secretary of state as the deadline for the November 2016 ballot approaches. It's guesswork at this point, but liberal activists have been clear they don't want to miss the chance to have something on a general-election ballot, when Democratic turnout is expected to be high.
The most divisive expected proposal would chip away at Proposition 13, the landmark 1978 measure that placed a cap on property taxes and limited annual increases. That has long been considered the third-rail of California politics — those who touch it would meet their political death. But a recent poll by the Public Policy Institute of California found 54 percent of the electorate supportive of instituting a so-called "split roll."
Commercial properties — industrial, retail, apartment buildings, agricultural — could be split from the tax rolls and taxed separately. It would mean a large tax hike for business owners and might generate an additional $7 billion or more in revenues a year, although opponents warn it will lead to higher rents and depressed economic activity.
Supporters say it's only for business properties, but that's as convincing as those who insisted that Proposition 30 would only be short-lived. After a split roll, I'd expect activists to start coming after some tax protections for residential properties, also.
The split-roll idea isn't coming out of nowhere, but rather is part of a long-running political campaign. A group called Evolve has been sending activists to city councils to gain support for this "reform." So far, 100 school boards and councils have endorsed this idea to raise commercial property rates.
"If it ends up on the ballot, it will be Armageddon," said Rex Hime, who leads the California Business Properties Association, and vows a vigorous and well-funded campaign from the state's business community.
Another likely initiative is for an oil-severance tax. California lacks this tax, which is common in other oil-producing states, but California imposes higher types of other taxes on the oil industry, according to opponents. They say burdensome new taxes could dampen the opportunity to exploit energy deposits in the Monterey Shale, the formation that largely lies underneath California's economically depressed San Joaquin Valley.
Other talked-about initiatives: another tax on tobacco products even though the state's already high taxes on cigarettes are boosting black markets; a measure to lower the two-thirds vote threshold to 55 percent to ease the approval of local parcel taxes; and a new tax on sugary drinks. In the Legislature, Democratic Sen. Bob Hertzberg is promoting a $10-billion tax increase that would apply the state's sales tax to most services.
So much of the Proposition 30 increases went toward pensions and salaries for public employees, yet there's far more interest in finding new tax sources than in reforming pensions, retiree medical and other unsustainable programs.
"That's the spending lobby," said Jon Coupal, president of the anti-tax-hiking Howard Jarvis Taxpayers Association. "We've generated more tax revenue than ever before, but it's never, ever, ever, ever enough." The Jarvis group will no doubt be a big player in the emerging coalitionthat will fight any split-roll initiative.
Billionaire Democrat Tom Steyer is expected to fund a pro-severance-tax measure. The oil companies will no doubt fund a campaign against that one, just as the tobacco companies would fund the campaign against a cigarette-tax hike. But it's unclear who might lead the opposition to a Proposition 30 extension, which likely will be backed by the well-heeled California Teachers Association.
Gov. Brown remains a wild card. He has said he views Proposition 30 as temporary and also has previously opposed the severance tax. But he has his own high-priority projects (the Delta tunnels and the bullet train) to fund even though he has gained plaudits for his (relatively) frugal handling of the state's budget.
Hime said he would be happy if multiple tax measures land on the same ballot, given that voters are likely to reject them all if they are faced with such a tax-hike avalanche. So we'll have to see which measure(s) the union-allied groups ultimately focus on. Whatever strategy they embrace, it will be touted as an effort to "fully fund state government," said Rob Lapsley, president of the California Business Roundtable.
But just as no tax increase is ever temporary, no spending measure will ever fully fund anything. There's only one thing the "spending lobby" seems to want: more.