On Trevor Noah, Lena Dunham, and Offensive Comedy—Stop Politicizing Everything
Hyper-partisan cultural commentators are on auto-pilot.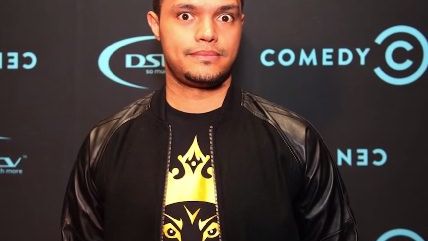 Ever since South African comic Trevor Noah—a relative unknown to American audiences—was named as Jon Stewart's replacement on Comedy Central's The Daily Show, hyper-partisan cultural commentators have been on auto-pilot.
Yesterday, Noah was a young, biracial, presumably progressive hero who was expected to bash conservatives in the manner befitting a Daily Show host. None jumped the gun as excitedly as Salon's Sonia Saraiya: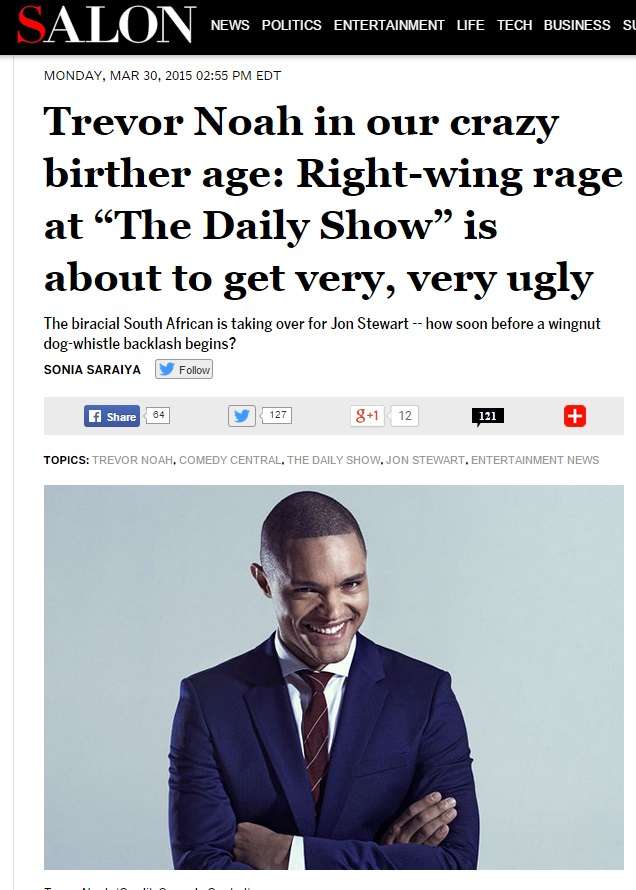 Unfortunately for a hopeless partisan like Saraiya, her prediction proved incorrect—it was the left that turned on Noah first, and with stunning speed. Mere hours after the above article went live, journalists unfamiliar with Noah began investigating his past Twitter statements. What they discovered was outrageous and shocking: Noah, a comedian, had made some insensitive jokes about Jewish people and women.
Cue the firing squad!
Vox: "The line between funny and offensive is thin. Trevor Noah is on the wrong side."
MSNBC: "New 'Daily Show' host has a history of offensive tweets."
Slate: "The Problem Isn't That Trevor Noah Is Offensive. The Problem Is That He's a Giant Dope." (Note the URL, "offensive-yes-but-also.")
And astonishingly, Salon itself: "Did Trevor Noah's Twitter history just kill 'The Daily Show'?"
A couple things. First, Bloomberg's Dave Weigel (formerly of Reason) astutely observes that the left might have difficulty tolerating a politically incorrect comedian at the helm of The Daily Show, since the show itself has come to be something of an affirmation of progressive politics:
In another era, like when Stewart took over TDS, a couple of clunkers about race and gender would have been just that—clunkers. The audience groans, the show moves on. But the show plays a larger role in progressive life and thought than anyone could have expected when Stewart took the job. Just a year ago, Stephen Colbert's show spent days fending off a charge of racism for a joke about Washington Redskins host Dan Snyder that imagined Colbert setting up his own offensively named pro-Asian foundation.

"The guises of 'satire,' 'irony,' and 'humor' are not shields of armor against criticism," wrote Suey Park, a Twitter critic who parlayed the success of a #CancelColbert hashtag into a guest column for Time magazine. "These white liberals are not mad that we pointed out racism, they are mad that they now have to consider the ways in which they may be racist."

Implicit in that analysis: The elevated status of The Colbert Report, and The Daily Show, meant that they needed to enrich their viewers as well as entertaining them.
Second, it's important to remember that despite the popular persona of the average American as an avatar of offensiveness and incivility, international humor can be every bit as lowbrow as our own. It looks like some left-leaning early trumpeters of Noah merely assumed they would be getting another John Oliver. Foreign? Intelligent? Biracial? Great! He will surely parrot everything we already think!
Third, good comedy is often offensive, but not all offensive comedy is good. I don't really think Noah's tweets were hilarious, but I hardly think they should disqualify him from a job as a comedian four years after he made them. If his comedy hasn't gotten any better, that will be one thing. Merely giving offense is quite another.
The same is true of this incredibly bizarre Lena Dunham piece in The New Yorker, "Dog or Jewish Boyfriend? A Quiz." Conservative critics of Dunham were quick to denounce her for anti-Semitism. Now, many of these same critics would have fallen over themselves to defend the piece and bemoan the tyranny of political correctness had the author been someone they don't despise and the target of the joke been different. That's because all too many people view modern culture as a battle between two teams that requires absolute fealty to one side or the other. A Lena Dunham thing? She's on the other side, so I'm against it. This thinking infects every subject. Trevor Noah seems like someone Team B will hate, so because I am on Team A, I like him. Wait, he insulted women? Nevermind, he must be a Team B-er.
A far better approach—a casually libertarian approach, one might say—is to evaluate things on their individual merits, rather than on how well they confirm our own biases or infuriate our enemies.
This is difficult, but it can be done. I'll show you how:
Lena Dunham's politics are noxiously pro-Obama; that said, her HBO show, Girls, is a nuanced exploration of the dreams and nightmares of the millennial generation. Dunham is a great writer and actress. Her New Yorker piece really sucked, though; it wasn't funny at all. And she likely fabricated details of her autobiography; despite what she claimed, her rapist was definitely not a Republican activist.

I don't know much about Trevor Noah. Reserving judgment until I see him host The Daily Show.
Those are just my opinions. What are yours?