A.M. Links: 2 Americans on Crashed Germanwings Flight, Ted Cruz Plans to Go on Obamacare, Federal Court Agrees to Expedited Appeal on Obama's Immigration Actions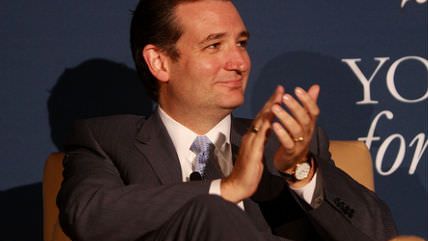 Credit: Gage Skidmore / Foter.com / CC BY-SA

Two Americans were among the 150 passengers and crew members on board the Germanwings airplane that crashed in the French Alps on Tuesday.
The United States will keep 9,800 troops stationed in Afghanistan this year, a change of course from the Obama administration's original plan to reduce the U.S. troop presence in that country to 5,000 by year's end.
The U.S. Court of Appeals for the 5th Circuit has agreed to hear an expedited appeal of the lower court ruling which blocked President Barack Obama's immigration actions.
Republican presidential hopeful Sen. Ted Cruz (R-Texas) is planning to buy health insurance for his family through a federal health care exchange established under Obamacare.
"Ron Dermer, the Israeli ambassador to the United States, is courting congressional Democrats after discord between the countries' leaders, but is still working against a nuclear deal with Iran."
Follow Reason on Twitter, and like us on Facebook. You can also get the top stories mailed to you—sign up here.