Who Ordered the Assassination of Russian Liberal Icon Boris Nemtsov?
Visiting the bridge where he was murdered.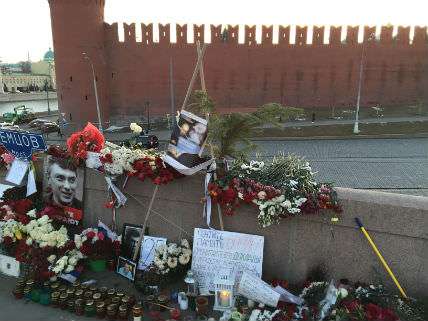 The first thing I did after getting to my hotel in Moscow (I am giving some lectures this week in Russia and Ukraine) was to walk through Red Square to the bridge over the Moskva River where Russian liberal patriot Boris Nemtsov was gunned down on February 27th. The bridge, located right next to the Kremlin, is lined with bouquets, candles, posters, black ribbons, and Russian flags put there by bereft supporters. President Vladimir Putin promised to "personally" run the investigation into the murder. So far the police have arrested 5 Chechens (another blew himself up with a grenade before arrest) as the alleged perpetrators.
Newsweek has a really good article describing how an out-of-control Putin loyalist and Chechen strongman Ramzan Kadyrov might have orchestrated the hit. If so, did Kadyrov act alone or on orders from above?
From Newsweek…
Ronald Bailey

… leading journalist and opposition activist Ksenia Sobchak announced she was thinking of leaving Russia after she learned her name was on a Chechen hit list of liberal "traitors."

"It would be in some way less worrying if Putin had ordered Nemtsov's killing," blogged liberal activist Sobchak, who has known Putin since childhood because her father was the first mayor of post-Soviet Leningrad—and Putin's boss and patron. "It would be an awful system, but at least a system, a manageable system. But this is not the case. There is no Putin who gave a command to kill. But there is a Putin who has built a hellish Terminator and he has lost control of it. There is no one controlling the process any more—there is chaotic hatred that is fueled every day by the federal mass media."

Ronald Bailey

The more disturbing story behind Nemtsov's murder is that the Kremlin has opened a Pandora's box of paranoia and violence that it can no longer control. Nemtsov's killing may come to be seen as a turning point—not only as the day when the liberal opposition lost a leader but also as the day the ultranationalist death squads first took to the streets of Moscow. As Sobchak puts it, the rounds that killed Nemtsov "are only the first six bullets. There are troubled times ahead."
Chess champion and liberal opposition leader Garry Kasparov told Newsweek:
"Putin must be held responsible for the murder of Boris. Who ordered it? I don't care."
I am dedicating each of my lectures this trip to the memory of my friend and colleague Paul Klebnikov, the editor of Forbes Russia, who was gunned down on a Moscow street on July 9, 2004. No one has been punished for his murder.
See Reason.tv's interview with Kasparov on the "West's Shameful Appeasement of Putin" below: