VID: Is South by Southwest Too Big to Be Cool?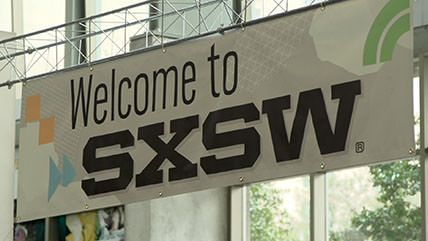 The popular South by Southwest (SxSW) festival launches this week in Austin, Texas. While the conference has been known to bring the brightest minds in music, film, and technology together, some attendees feel that the week-long event has gotten too big for indie creators to stand out amongst large corporate brands.
Last year, Reason TV traveled to the SwSW to see if the popular conference had lost it's indie street cred.
"Is South by Southwest Too Popular for Startups?," produced by Paul Detrick. About 5 minutes. Original release date was March 21, 2014 and original writeup is below.
South by Southwest (SXSW) is the legendary music, film, and interactive conference held annually in Austin, TX, since 1987. This year, Reason TV visited the festival, which has a rich history of popularizing hip and game-changing technology like Twitter, Foursquare, and FoodSpotting. But as SXSW came to a close in 2014, there wasn't a singular app or website that was taking the digital world by storm. This could mean we've all been over saturated with tech lately or perhaps that SXSW has lost a little of its indie street cred.

"Is it still indie? Maybe not," says Joshua Jake Vaughn, the Founder and CEO of Connect2Good.com, an Austin-based startup website and app that helps connect people who have items to donate with charitable organizations looking for goods. "Major brands are able to come into SXSW with serious funding and that funding empowers them to do things that get people's attention. Doing so can be extremely difficult for a small bootstrapped startup web app like Connect2Good."

With over 30,000 visitors to SXSW Interactive, attention seeking is the name of the game. Sponsors like Deloitte, AT&T, Chevy, Esurance, and Subway pull out all the stops with big displays and exhibitors on the convention floor beckon visitors to their booths with t-shirts, sunglasses and, in the case of The New York Times, a photobooth that dispensed animation flip books.

"There are a lot of people with booths right now that are competing to get attention," said Andrew van den Houten, the CEO of TentSquare.com, a production studio that promises to hand over the filmmaking process to audiences through crowdsourcing. Van den Houten was exhibiting in the Startup Corner of the convention floor.

"Instead of trying to take, we're giving back," says Van den Houten. "I really feel like a lot of companies out here are saying, 'Hey, we built this widget, pay us money for this widget, it's really cool,' and a lot of it is innovative and super cool, but a lot of it isn't innovative and new and fresh."

But widgets, apps, and websites aside, some companies see SXSW as a good way to reach their audience. One of the festivals sponsors, Subway, used SXSW Interactive to promote the Flatizza, Subway's new flatbread pizza. Visitors to the convention center were treated to a brain wave detection video game put together by the advertising firm 360i.

"[SXSW] is the spirit of innovation, it seemed like a really nice match," says Lane Harris, a senior technical director at 360i. "The target's perfect, these are the people that enjoy Subway products."

It's not as if the bootstrap start ups are placed right next to the dynamic and engaging Subway display. But, the set up shows how far SXSW has come since Twitter blew up in 2007.

Vaughn gave a talk at the conference, but didn't have a booth or table at the Austin Convention Center. He says often one needs venture capital funding or serious financial backing to present at SXSW or other large conferences like it these days. Instead, he was outside the press room a few floors up, trying to talk to reporters about Connect2Good.

"I have to, like always, think creatively," says Vaughn. "Immediately what I think of is, well, lets go hang out in front of the press room and see who we can talk to."

Written and produced by Paul Detrick. Shot by Detrick, Alexis Garcia, and Todd Krainin.

Scroll down for downloadable versions of this video and subscribe to Reason TV's YouTube channel to receive automatic updates when new material goes live.