A.M. Links: Obama Calls for Arrest of Local Ferguson Criminals, ACLU Admits OU Expulsions Unconstitutional, Ganymede Could Have Saltwater Ocean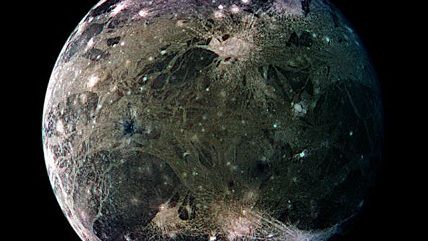 NASA

Protests against police malfeasance continue in Ferguson, Missouri after two cops were shot the previous night. Appearing on Jimmy Kimmel Live, President Obama called for the arrest of the shooters, who have not yet been found.

The lawyer for Ross Ulbricht, convicted of charges related to running Silk Road, has filed a motion for a new trial, claiming the government didn't release evidence supporting his client's innocence in a timely manner.
Univision host Rodner Figueroa was fired after saying Michelle Obama looked like she belonged on the set of "Planet of the Apes" during an "El Gordo y La Flaca" segment about a makeup artist who makes himself look like female celebrities.
A judge in Staten Island ruled a lawsuit against teacher tenure filed on behalf of public school students could move forward.
The ACLU admitted the expulsion of two students from Oklahoma University for racist speech was unconstitutional.
George W. Bush condemned the crackdown on student-led protests in Burma after a student leader who participated in a Bush Institute forum was arrested.
Jupiter's largest moon, Ganymede, could have a huge saltwater ocean.
Follow Reason on Twitter, and like us on Facebook. You can also get the top stories mailed to you—sign up here.