China Not Getting Dragged Into Venezuela's Problems
China's foreign minister says he hopes the U.S. and Venezuela can deal with their issues with mutual respect and non-interference.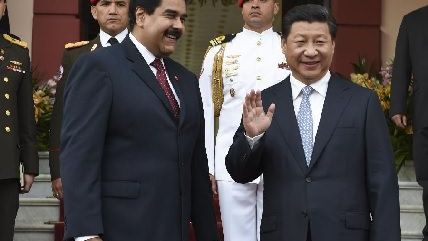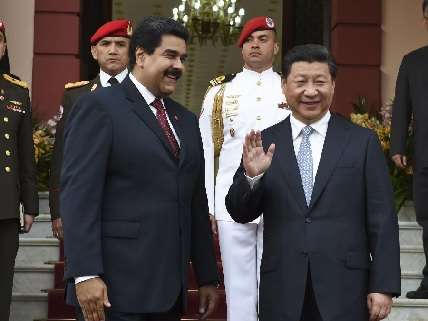 It shouldn't come as a surprise to anyone that China says it's not going to get involved in the spat between Venezuela and the U.S., which this week declared the country, a socialist shithole in the grip of on-again-off-again anti-government protests for the last year, a "national security" threat. The latest bout of protest and unrest began when intelligence services raided the home of Caracas' mayor, opposition leader Antonio Ledezma, accusing him of plotting a coup.
"China hopes both countries can handle their relations on the basis of equality, mutual respect and non-interference in each other's internal affairs," Foreign Ministry spokesperson Hong Lei said, according to Chinese state news agency Xinhua. "These international principles apply to all state-to-state relations," Hong said. "Adherence to these norms not only serves the interests of the two countries but also peace and stability in Latin America."
China's foreign minister said he hoped the government and people of Venezuela were able to secure economic development and national stability. Venezuela appears to have neither, only a kleptocratic government whose central planning policies have pulled the country into a recessionary spiral. The Chinese know about the importance of economic growth to stability—first expressed in the ancient idea of the Mandate of Heaven.
China knows about anti-government protests, too. They have at least doubled in the country over the last decade, with 180,000 "mass incidents" reported in 2010. The Chinese government regularly spends more on internal police than on military forces. But it doesn't spend on potential client states' problems. Maduro made a last minute overseas trip in January looking for financial assistance—he visited China, Russia, Qatar, Saudi Arabia, Algeria, Iran, and Portugal. He said he secured $20 billion in investment from China, but the Chinese government didn't confirm it and it likely represented a pre-existing oil-for-loans deal. The U.S. government's latest move, meanwhile, could be handing Maduro a much needed foil to shore up domestic support with appeals to "anti-imperialist" feelings.