Feds to Charge Senator Bob Menendez With Corruption—Looking Into Obamacare Talks, Ports Deal, Reportedly
CNN reports charges against the New Jersey Democrat could come in the next few weeks.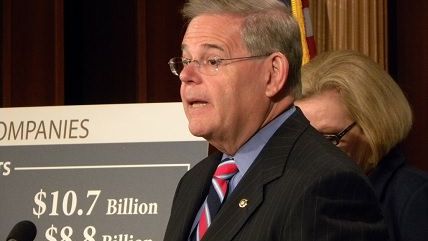 (Talk Radio News Service/flickr)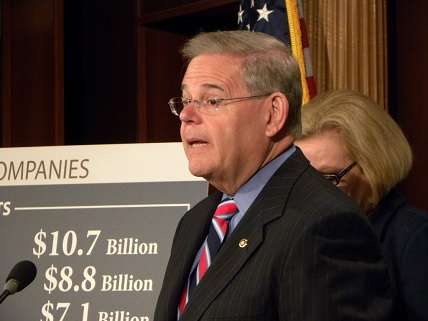 More than two years ago, just before the 2012 election, Sen. Bob Menendez (D-N.J.) was accused of taking trips to the Dominican Republic on a Miami donor's private plane. The accusation was dismissed as a pre-election smear, particularly when coupled with false allegations Menendez was frequenting underage prostitutes.
Now Menendez is reportedly on the verge of facing corruption charges for his relationship with the Miami donor, Salomon Melgen, and his failure to disclose the trips, considered gifts. Via CNN:
People briefed on the case say Attorney General Eric Holder has signed off on prosecutors' request to proceed with charges, CNN has learned exclusively. An announcement could come within weeks. Prosecutors are under pressure in part because of the statute of limitation on some of the allegations.

The case could pose a high-profile test of the Justice Department's ability to prosecute sitting lawmakers, having already spawned a legal battle over whether key evidence the government has gathered is protected by the Constitution's Speech and Debate clause.

The FBI and prosecutors from the Justice Department's public integrity section, have pursued a variety of allegations against Menendez, who has called the probe part of "smear campaign" against him.
But the feds don't appear to be fishing:
The fight [over constitutional protections] centers in part on the Justice Department's attempt to compel testimony from Menendez's aides, some of whom have refused to answer questions to a grand jury.

According to the documents, the government wants to question aides about a series of 2012 calls and meetings on Melgen's fight with the Center for Medicare and Medicaid Services, a federal agency. Among these is a meeting among Menendez, Sen. Harry Reid and then Health and Human Services Secretary Kathleen Sebelius. The government is also pushing to use emails between Menendez's office and a CBP [Customs and Border Patrol] official about the Dominican ports issue.
A judge agreed the government could compel testimony from the aides because "informal communications with executive branch officials" aren't "manifestly legislative acts." The speech and debate clause in Article I of the Constitution protects members of Congress from arrest while attending legislative sessions or travelling to and from Washington.